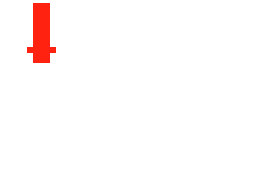 Last Updated May 19, 2016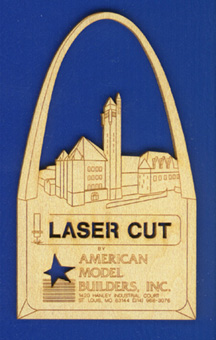 American Model Builders is a St. Louis, Missouri based company. The sample showing the Gateway Arch and the St. Louis Union Station above the LASERkit and AMB logos was created with our laser.
WHAT IS A LASERKIT®?
LASERKITS® are designed in a Computer Assisted Drafting (CAD) program, then laser-machined at our computer-controlled laser workstations.
LASERKITS® are cut and engraved from high quality woods (and occasionally styrene) with incredible precision and accuracy. The resulting edges are clean, need little, if any, sanding, and yield precise details, and exact-fitting parts.
There is no frustrating, time-consuming, board by board construction with LASERKITS®. Side and roof pieces are tabbed and slotted, so no error can be made during assembly. Windows, doors, roofing materials, shingles, and trim boards are all laser-cut, and have a self adhesive backing which has been tested in the St. Louis summer heat and humidity, and found to hold under the most adverse conditions.
LASERKITS® are quick, easy and fun for ANY modeler to build! The novice will be thrilled with the ease of construction, the clear and simple instructions, and the professional look of the completed model…..while the experienced modeler can modify, super-detail, or elaborate to their heart's content.
"I was in complete awe…..All the parts fit perfectly…..Brilliance in design and engineering…..The price is absolutely fair…..Laser-cutting technique allows a wood kit to fit together like an injection molded kit…..Your kits are state-of-the-art; of the highest quality and joy to assemble…I have never experienced such pleasure and pride in a completed kit…..WOW!….." These are just a few of the comments we've heard from model railroaders who have purchased and built LASERKITS®!
Copyright © 1998-2023 American Model Builders. All rights reserved.
Revised: January 6, 2023 .