The O Scale Rail – Marine Series
Last Updated - May 19, 2016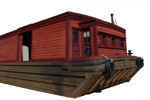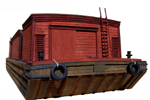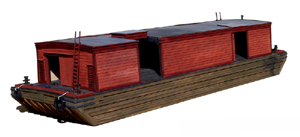 Click on individual image to enlarge. HO scale samples shown.
An Introduction to the Series
The Barge was the Rail-Marine equivalent of the Railroad Boxcar and Flat Car. Many of the United States' "Eastern" Railroads maintained huge "Railroad Navies". The NYC, PRR, LV, CNJ, Erie, DL&W, NH and others all had a variety of craft on their rosters, everything from Railroad Harbor Tugboats, to Stick Lighters, Scows, Floating Livestock "Yards" , Station Floats, Car Floats and Ferries. There were even Floating Grain Elevators, which to the inexperienced are some of the most ungainly water craft imaginable.
Many of these barges roamed the Northern East Coast, from Maine, southward to the Carolinas, all carrying Railroad Freight. Large concentrations of activity could be found in Portland, Maine and Philadelphia, with the biggest operation centered around New York City. Railroad Tugs pushed, pulled and maneuvered all these craft from the piers of New York and New Jersey, and up the Hudson River. The historical records of tonnage moved by the Rail-Marine craft are astonishing. In most cases, this "tonnage" was called "lighterage" by the rail-marine folks. Lighterage was, simply put, just about anything the railroad navies hauled from one freight dock to another. Many times Barges and Stick Lighters were tied up alongside ocean going ships in order to load the lighterage on board, often, as the ship was imminently ready to sail. Freight was transported this way from the late 1800s up until the 1960s.
The "Inspiration" for our line of Rail-Marine Kits was a two part article, written by Don Spiro, that appeared in the December, 2002 and January, 2003 issues of Railroad Model Craftsman. For any model railroader who is not aware of the aspects of Rail-Marine operation, an incredible surprise awaits them as there was an interesting variety of equipment used, not to mention the interaction between railroad navies and their respective land based counterparts. For those who already know the "treasures" of this fascinating world, we at AMB hope to provide you with the largest variety of high quality Rail-Marine models to be produced. We also hope that our kits will find their way to the workbenches of the "uninitiated" modelers and that they, too, will discover the Rail-Marine World.
For additional information on barges, click here.
The Deck Scow features 100% laser-cut materials, uses Tab & Slot and Peel & Stick technology for ease of assembly, and includes cast resin detail parts such as cleats, bollards, and tire bumpers, as well as laser-scribed wood decking that displays the proper camber. A perfect compliment to Lionel's previously released O scale Tugboat series. The assembled model measures 24" long x 7.5" wide x 3.25" tall. MSRP....$129.95
Copyright © 2004-2016 American Model Builders. All rights reserved.
May 19, 2016.