NEW RELEASES


Last Updated May 30, 2019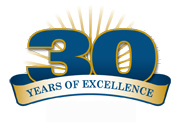 Remember - If it doesn't say American Model Builders, Inc. on the box, it's not a genuine LASERKIT!
Click on the link below to go directly to the NEW releases for that particular scale or subject:
N SCALE HO SCALE S SCALE O SCALE
WARNING: American Model Builders, Inc. products are not intended for children under 14 years of age!



New York Central 19000 Series Wood Cupola Caboose
Along side the Hudson steam locomotive, the 19000 series wood caboose, with its distinctive low cupola, was the iconic image of the New York Central from the early teens of the 20th century through the 1960s. Referred to as the "standard" caboose of the NYC, the 19000 series was actually a compilation of cars created from a fleet of nearly 2000 cabooses, which were inherited from predecessor roads – some dating back to the 1890s. Between 1912 and 1926, many of these cars were rebuilt with common features such as window arrangement, steel underframes, and low cupolas, but, as eight different company shops were involved, subtle variations resulted.
Kit No. 554 features: 100% laser-cut components with custom laser-scribed Birch plywood side, end walls, and cupola; Tab & Slot carbody construction; Peel & Stick window, door, and trim assembly; laser-cut underframe, end platforms, ladders, end railing, hand grabs, window glazing, truss rods, and brake wheels; cast resin platform steps and brake gear; plastic smokejack; custom decals by Tichy Train Group; and fully illustrated instructions that provide information on painting and decaling the assembled model. In addition, the N scale kit provides for optional details too such as square or rounded body corner posts; side windows that can be modeled open or closed; two different styles of roofwalks; and cupola end window variation. We recommend the purchase of Micro-Trains No.1015-1 Universal Body Mount Couplers, Atlas No. 22061 Friction Bearing Caboose Trucks, and paint and glue of your choice for the completion of this kit.

N Scale Kit No. 554 New York Central 19000 Series Wood Cupola Caboose
Available now MSRP ...$37.95
Generator Flat Car Load
Designed to fit 50' or longer N scale flat cars, our latest load features seven cast resin generators, ready for painting, along with easy to assemble laser-cut wood framing and blocking. Assembled load measures 3.25" long x 0.625" wide x 0.4375" high.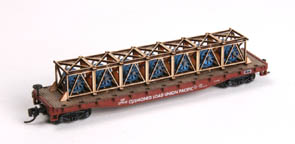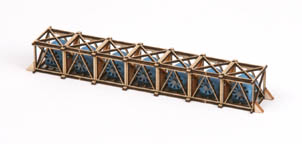 N Scale Kit No. 519 Generator Flat Car Load
MSRP $15.95
Dairy Transfer Stands
At one time, the "milk train" was an important member of the food chain supplying those folks living in large cities with milk, butter, and cheese from the outlying farming communities. Before World War II and the prevalence of electricity in rural areas, farmers would need to make daily runs to the nearby railroad station in order to transport their fresh milk, which was carried in cans, to the creameries in the big urban areas for processing. Often, a group of farmers far removed from a township would setup collection points, whereby the milk cans would be gathered and taken to a dairy depot of sorts. From here, wagons would be loaded up with the large group of milk cans and taken to the train station, where they would be unloaded on one if its trackside platforms.
Upon the milk trains arrival at the station, railroad crews would first unload the previous day's empty milk cans to be returned to the farmers and then take on the filled cans. Depending on the length of the train ride, iced reefer cars were often employed to handle the milk loads to the city. After electrically powered refrigeration became a possibility for the local farmer, it was not as time sensitive of a commodity any longer, and while milk cans were still collected locally, transportation to the dairy by truck on a slower schedule would take the place of these daily milk trains by the early 1950s.
Our new Dairy Transfer Stand kit is based on these rural milk can collection points and includes two platforms. The smaller platform represents an individual farm's milk can stand that may have been situated on its acreage nearest the county road. From here, the milk cans would be picked up by a cooperative that would collect the milk cans from other area farmers and haul them by wagon to a main dairy hub, often controlled by the largest dairy farm in the region. This latter facility is represented by the second larger platform with office in Kit No. 730 and carries the sponsorship and signage of the Behrenwald Farms Dairy, a real Michigan based family owned dairy farm still in operation today.
Precision cut from quality milled basswoods and 3-ply aircraft grade birch plywood, the Dairy Transfer Kit incorporates all the attributes customers are used to enjoying in an American Model Builders LASERkit: tab and slotted wall and roof assembly; peel and stick windows, doors, and trim; simulated metal roofing; both "cracked" and solid office window glazing; platform ladders; full color signage with large cow-shaped rooftop billboard; and an assortment of resin cast parts depicting milk cans, salt sacks, a hand truck, an other details for accessorizing the larger platform/office structure. The finish structures measure 1.375 inch square x 0.5 inch tall and 2.625 inch long x 3.5 inch deep x 2.75 inch high to peek of roof respectively.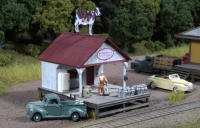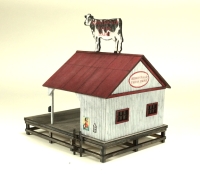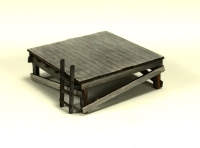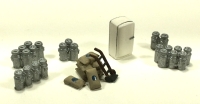 HO Scale Kit No. 730 Dairy Transfer Stands
MSRP ...$39.95

NYC Lot 732 "Long" and "Pacemaker" Wood Cupola Cabooses
While the United States was fighting wars in Europe and the Pacific, railroads on the home front were doing their part to meet the additional shipments. With restrictions placed on materials such as steel, railroads across the county turned to rebuilding older pieces of rolling stock to meet rising traffic demands. In 1944, the New York Central rebuilt fifty boxcars into cabooses at their East Buffalo, New York shop. Entering the shop as 1910 era 36-foot steel framed wood bodied boxcars, they exited as essentially new cabooses numbered 20100-20149. These cabooses were given construction lot number 732.
In outward appearance, the lot 732 cabooses resembled the NYC 19000 series "standard" caboose with their short off set cupola, but were more than five feet longer. The cabooses retained the steel fish belly frame as the boxcars they were rebuilt from, but a steel channel was added that ran along the bottom of the body of the cabooses giving them a unique appearance.
While NYC's wood bodied steel frame cabooses were bumped from mainline trains with the addition of 300 all steel bay window cabooses between 1949 and 1952, they continued to serve in local and branchline trains. The introduction of the steel transfer type caboose in 1966 sent many more of NYC's wood cabooses into retirement. However at the time of the merger with the Pennsylvania Railroad to from Penn Central, there were still ten lot 732 cabooses on the roster.
In 1946, the New York Central introduced a new service, the fast and dependable Pacemaker Freight Service. Speeding less-than-carload packages between New York City and Buffalo and intermediate cities, with connections to fast freights to other online Midwestern cities, the service provided options to shippers who work on tight schedules and required precise timing. An example allowed cloth mills neighboring Utica, NY same-day loading on Pacemaker Freight cars with arrival in New York City's garment manufacturing centers the next morning.
To provide this service, 1000 specially equipped boxcars and five cabooses were rebuilt with distinctive colors to make up trains of harmonious design. The upper halves of the equipment were painted vermilion red and the lower halves dark gray. Roofs, under frames and trucks were painted black with all white lettering. Special brake equipment known as AB-1-B type, which is designed for high-speed freight service, as well as Waughmat Twin-Cushion, double-acting, rubber draft gears were applied to all boxcars and cabooses. These additions reduced the shocks of starting and stopping protecting the shipments and the crew.
The five cabooses selected for the Pacemaker Service came from Lot 732 and were numbered 20112, 20117, 20129, 20132 and 21033. These cabooses were originally built NYC's East Buffalo, New York shop on the frames of 1910 era 36-foot boxcars in 1944. In outward appearance these cabooses resembled the NYC 19000 series "standard" caboose with short offset cupola, but were more than five feet longer than the standard caboose. Converted in 1946 for Pacemaker Service, in addition to the brake and draft gear modifications the tongue and groove siding was replaced with plywood sides giving them a smooth sided appearance.
Kits No. 887 and No. 888 feature 100% laser-cut components with custom laser-scribed side and end walls; Tab & Slot and Peel & Stick construction; laser-cut underframe, end platforms, end railing, and brake wheels; cast resin platform steps and brake gear; white metal smokejack; custom decals by Tichy Train Group; fully illustrated instructions that provide information on painting and decaling the assembled models; and several fixtures to aid the modeler in creating all the handholds and ladders appropriate for the prototypes. In addition, the HO scale kits provide for optional details too, such as square or rounded body corner posts, side windows that can be modeled open or closed, cupola end window variation, and a complete set of screen doors and windows. We recommend the purchase of Tahoe Model Works Barger-Bettendorf Swing Motion Caboose Trucks, Kadee No. 5 couplers with draft gear boxes, and the paint and glue of your choice for the completion of these kits.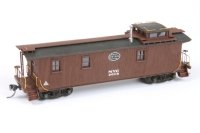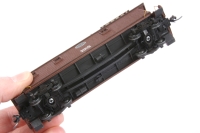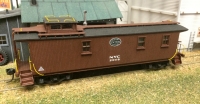 HO Scale Kit No. 887 NYC Lot 732 "Long" Wood Cupola Caboose
MSRP ...$64.95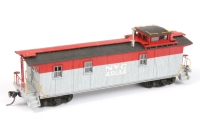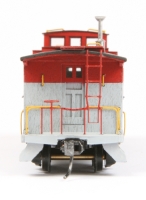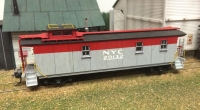 HO Scale Kit No. 888 NYC "Pacemaker" Wood Cupola Caboose
MSRP ...$64.95
Boron Station
Boron Station is based on structures once standing at mile post 784.0 on the Santa Fe's Valley Division. The 14' x 24' frame passenger depot had been constructed in 1896 as the Kramer, CA facility, but moved to Boron, CA in 1941in order to handle the large volume of borax shipping from the area during World War II. A separate 12' x 17' frame baggage room, built in 1900, was also moved to Boron from Kramer. The depot was closed in 1982, the last operating agency between Barstow and Mojave, and in 1987 was moved to the nearby Twenty Mule Team Museum, where it currently remains on display. The baggage room, however, was left behind and continued to serve as a maintenance-of-way shed through the Burlington Northern - Santa Fe merger.
Our new laser-cut Santa Fe depot and baggage room feature prototypical board and batten architecture; tab and slot construction; peel and stick windows, door, trim, and shake style shingles ; accurate bay window configuration; metal smoke jacks; cast resin swamp cooler (air conditioner); and full color signage. Assembled depot measures 4" long x 2.5" wide (with swamp cooler installed) x 2" tall while baggage room measures 2.625" long x 2" wide x 1.75" tall.

HO Scale Kit No. 194 Boron Station
MSRP ...$52.95
Window Sets for Atlas Dash 8s
The latest additions to our diesel locomotive replacement window line-up include kits for the Atlas HO scale GE Dash 8-40C (standard cab) and GE Dash 8-40CW (wide cab). Both window sets feature our laser-cut crystal clear and distortion-free acrylic and come pre-masked; so they can be installed before the final finish is applied to the carbody. Each kit includes all the cab window glass as well as the numberboard glazing for both hood ends.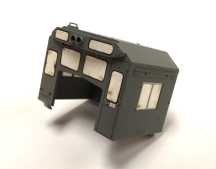 HO Scale Kit No. 281 Window Set Atlas Dash 8-40C (Standard Cab) MSRP $5.95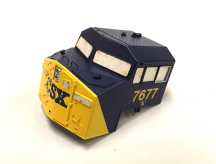 HO Scale Kit No. 282 Window Set Atlas Dash 8-40CW (Wide Cab) MSRP $5.95
Stationary Steam Engine Load
Our Stationary Steam Engine Load represents the components making up a typical 250 horsepower engine in HO scale. Depending on how it's finished, the modeler can recreate the delivery of a brand new engine or a rusted relic being hauled away for scrap. In this manner, the load can be utilized by both steam and diesel era modelers of any modeling period. The finished load is shown below on an HO scale Athearn 50' flat car as well as divided up onto two HOn3 Blackstone 30' narrow gauge flat cars. Furthermore, S and O scale modelers may even use this kit with the load representing a 175 and 125 horsepower engine respectively. Kit includes resin castings and laser-cut wood parts.
Kit No. 210 Stationary Steam Engine Load MSRP $12.95
Springfield Depot
Inspired by the countless number of small town railroad depots found across North America, the newest addition to our S scale line has been aptly called "Springfield Depot" for the widespread use of that town name in the US. The clapboard sided structure borrows elements from multiple designs displaying a centrally located angled three window bay with a small freight room on one side and passenger waiting room on the other side.
At only 7.5" long x 3.75" wide x 3" tall, the S scale depot will fit just about any 1/64 standard or narrow gauge layout with a rural or urban setting dated from the late 1800s though the present. The kit features 100% laser-cut parts that include tabbed and notched walls, peel and stick windows that can be assembled in layers for an optional open window effect, peel and stick trim, peel and stick shake style shingles, interior floor with wall partitions, our "stand alone" bay window design, detailed gable brackets, and a white metal chimney.
S Scale Kit No. 80 Springfield Depot
Available now MSRP...$74.95
Mine Trestling
This 100% laser-cut O scale basswood kit is designed to either augment the parts provided in our Kit No. 488 Martinsburg Coal Mine, to fit your own mine structure, or as a stand-alone unit. The kit provides 20 linear inches of "tailings trestle", which can be assembled in a straight line or curves to suit your scenery.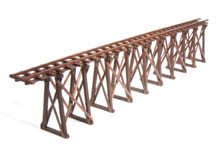 O Scale Kit No. 452 Mine Trestling
MSRP ...$39.95
"The Pickle Works"
G. R. Dill & Sons Salting Station
A great small industry to add to your layout, our new O scale kit conveys the early appearance of pickle salting stations with its 100% laser-cut real wood construction right down to the 20 brine vats, which display individual wood planks and banding. Made from quality birch plywood and basswood, the modeler will easily be able to obtain that stained weathered look of the prototype facilities. Furthermore, the modular design of the kit, which includes the open platform with vats and freight car loading point and elevated shed with covered deck affords the modeler relative ease in placement of the structures on their layout even on curved sidings.
Kit No. 451 features everything the discriminating craftsman has come to expect from a LASERKIT® including Peel & Stick windows, door, trim, and roofing material, custom scribed platform decking, Tab & Slot wall and platform substructure assembly, laser-cut ladders and wheelbarrows, cast resin casks and cucumber loads for the wheelbarrows, cast resin scale, optional open vats with simulated brine, well-illustrated instructions, and full color signage that includes a unique dill pickle shaped rooftop billboard. As shown, the G. R. Dill & Sons Salting Station measures 16.5" long x 6.5" wide by 7" high with the elevated shed 5" long and the open platform 11.5" long. Click on photo below for more details!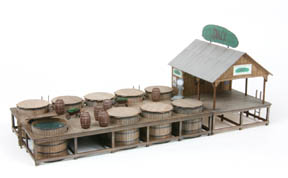 O Scale Kit No. Kit 451 The Pickle Works
Available now MSRP...$189.95
Copyright © 2002-2019 American Model Builders. All rights reserved.
Revised: May 30, 2019