HO Scale Freight Loads
Last Updated October 13, 2022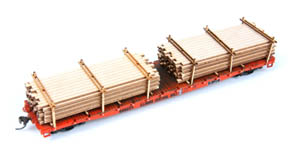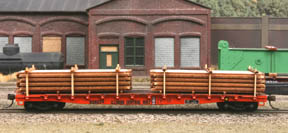 Kit No. 201 Extended Lumber Load for Flatcars MSRP...$16.95
We've extended the length of our popular selling No. 289 Lumber Load Stacks by 30 percent to better fill GSC 53' 6" type and larger HO scale flatcars. Each kit includes enough laser-cut basswood parts to build two lumber stacks complete with crossboards and side stakes.


Kit #206 Structural Flat Car Load MSRP $17.95
This new flat car load is usable for a variety of applications and is a real eye catcher either parked on a siding, traveling in a train or just sitting on its blocking in an industrial area. Its unique design allows the load to be anything you want it to be: part of an overhead crane, a section of movable bridge, part of the boom on a giant scoop shovel as used in pit-mining, or anything else your imagination makes of it. The load may be hauled by two 30' cars, such as Funaro & Camerlengo's Pennsylvania Railroad F22 flat car kits or Roundhouse's "shorty" flats. It can also be loaded on two 40' or 50' flat cars with one or two idler cars. 60' Flat cars, such as produced by Roundhouse/Athearn, can carry the load alone. The laser-cut kit utilizes our Peel & Stick technique for assembly and includes all of the parts needed to assemble the Structural Load, plus all the blocking, tie-down rods, and nut and washer detail. While considered HO scale in this application, it may also be used in S and O scales as a smaller load. Assembled load measures 7.75" long x 1" wide x 1.125" high.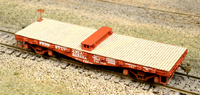 Kit #207 Flat Car Load Bolsters MSRP $6.95
Based on a Pennsylvania Railroad prototype and as used on their F22 class heavy duty "Gun Flats", this Load Bolster design not only supported heavy loads, but also had a central pivot point that would allow the bolsters to accommodate multi-car length loads as the train moved through curves and turnouts. There is much photographic documentation relative to the use of these cars and load bolsters. Originally created to carry 14" naval gun barrels from the Washington Navy Yard to Navy bases on the West Coast, the F22 flat cars became the heavy haulers of the day. The special load bolsters on board these flat cars carried other equipment too such as railroad turntables, large bridge beams, and other structural loads as represented by our kit #206. This new LASERKIT replicates these Pennsy bolsters faithfully and utilizes a unique method of construction. The parts are laser-cut to within .0025" and literally snap together. This allows the bulk of the bolster to be assembled without gluing. Once the primary parts are constructed, then glue is applied sparingly to the tabs and slots while the supplied adhesive backed cover plates are placed on the top and bottom of the bolster to conceal the tabs, slots, and glue. These Load Bolsters can be used to transport our kit #206 should the modeler desire to haul them on two 30 or 40 foot flats. Each kit contains enough parts to build one pair of bolsters.


Kit #208 Flanged Pipe Load and Blocking MSRP $14.25
Our latest flat car load includes styrene "pipe" and laser-cut parts to construct large diameter weld-neck flanges for the pipe ends along with wooden blocking, wire tie downs, metal plates and nuts and washers to fasten the load to the car's deck. The 8.5" long pipe load may be used with two 30-foot or 40-foot flat cars or one 50-foot or 60-foot flat with idler cars. If using this kit with two flats, we recommend our Kit #207 Load Bolsters for load articulation.



Kit #209 Gondola Pipe Load MSRP $13.25
Our first gondola load includes styrene "pipe" and laser-cut parts to construct large diameter weld-neck flanges for the pipe ends along with wooden blocking to fasten the load to the car's deck. The 6" long pipe load as packaged can be used with any HO scale 50-foot or longer gondola, but may be shortened by the modeler for smaller cars. Optionally, the blocking is also designed to allow the pipe load to be mounted to a flatcar deck as well
Kit No. 210 Stationary Steam Engine Load MSRP $15.95
Our Stationary Steam Engine Load represents the components making up a typical 250 horsepower engine in HO scale. Depending on how it's finished, the modeler can recreate the delivery of a brand new engine or a rusted relic being hauled away for scrap. In this manner, the load can be utilized by both steam and diesel era modelers of any modeling period. The finished load is shown above on an HO scale Athearn 50' flat car as well as divided up onto two HOn3 Blackstone 30' narrow gauge flat cars. Furthermore, S and O scale modelers may even use this kit with the load representing a 175 and 125 horsepower engine respectively. Kit includes resin castings and laser-cut wood parts.


Kit #211 Big Steel Beam MSRP $17.95
This new laser-cut kit utilizes our Peel & Stick technique for assembly and includes all of the parts needed to assemble the scale 72'-6" long x 7'-0" tall I-beam load plus the blocking and tie down rods, as well as nut and washer details. Due to its size, the Big Steel Beam may be used with two 30-foot or 40-foot flat cars or one 50-foot or 60-foot flat with idler cars. If using this kit with two flats, we recommend our Kit #207 Load Bolsters for load articulation. The load is usable in other scales too. In S scale, the Big Steel Beam measures 53'-0" long x 5"-0" tall while for O scale it represents a 40'-0" long x 3"-10" tall load.
Kit No. 212 Generator Flat Car Load MSRP $22.95
Designed to fit 50' or longer HO scale flat cars, this load features seven cast resin generators (two different designs included), ready for painting, along with easy to assemble laser-cut wood framing and blocking. Assembled load measures 6.625" long x 1.125" wide x 0.875" high.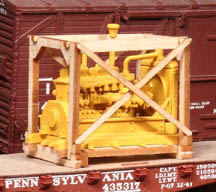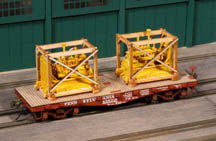 Kit No. 213 Wood Crates for SceneMaster Generators MSRP . . . Discontinued . . . See Kit No. 221 below.

These easy to build laser-cut wood crates are designed to enhance the Walthers/Life Like SceneMaster Generator freight car loads. Includes two complete kits.

!!!!! Please note that as of 2019, Walthers has discontinued its SceneMaster Generator kits. If you already own our Kit No. 213 and are looking for generators, we offer our new cast resin Diesel Engine/Generator separately, which is a direct replacement for the Walthers kit. They are listed under the "Laser Direct HO Scale Freight Car Loads" portion of the website as Kit No. 9010. Click on the gold "Laser Direct" button below!!!!!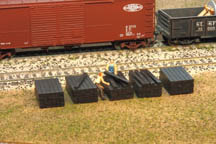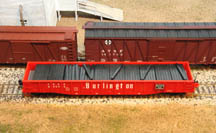 Kit No. 214 Railroad Tie Stacks MSRP ...$13.95
Railroad ties are often seen stacked along the right of way, in railroad yards, or loaded in freight cars - usually gondolas. Our latest laser-cut basswood load kit can be used in many applications, either stacked or as individual ties by simply cutting the laser-scribed tie sheets apart. The kit includes enough tie sheets to fill a HO scale 53-foot gondola.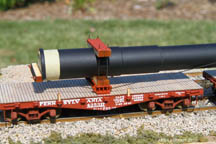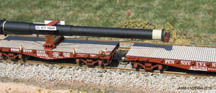 Kit No. 215 Naval Gun Barrel Load . . . MSRP $27.50

By the time WWII broke out, large naval gun technology had progressed to the point that the big 14" and 16" guns could fire up to 390 rounds before the barrels needed to be re-lined. However, this work could only be performed at the Washington Navy Yard in Philadelphia, PA. Therefore, all naval guns were transported by rail between here and the naval bases on the east coast, such as at Brooklyn and Boston, and the west coast base at Bremerton, WA. Due to its vast rail system, the Pennsylvania Railroad become instrumental in the movement of these guns and the company developed special equipment to carry out this task, which is the subject of our latest freight car load.
Kit No. 215 is designed to be hauled on two Pennsylvania F22 class "Gun Flats" and includes an HO scale Naval Gun Barrel (representative of both 16"/45 and 16"/50 naval gun barrels), associated laser-cut wood blocking and hardware, simulated canvas wraps, signage – all painstakingly patterned after original Pennsy equipment diagrams, and our authentic laser-cut PRR load bolster kit. Prototypical resin F22 class flat car kits are available from Funaro & Camerlengo (AMB also produces laser-cut wood decks for the F&C F22 car kits, click here for more information) , but this load kit can be adapted for use on other 30' length flat cars as well. Furthermore, the Pennsy most often utilized their 40' long FM class flat car as an idler for these loads, which is also available in kit form from Funaro & Camerlengo. As depicted, the Naval Gun Barrel load measures 9.75" long.
Wind Turbine Loads
American Model Builders - LASERKIT is pleased to announce a new and unique HO scale freight car load offering based on the enormous wind turbines currently popping up all over the United States. Over the past decade, the country has seen a surge in wind driven technologies and the railroads have played a key role in transporting the turbines to the general transload sites near these wind farms. Visible throughout the heartland and often seen in unit train consists, individual turbine blades, some stretching 150 feet in length, are often hauled straddled between two flat cars, usually on 89 foot piggyback cars relegated to general service, along with shorter flat cars utilized as idler cars or for carrying a turbine's other components. Typically, a wind turbine setup includes three blades, generator nacelle, and cone plus the tower shaft, so a shipment of just 15 complete wind turbines might entail a single consist of 100 or more cars in length! Click on photo below for more information!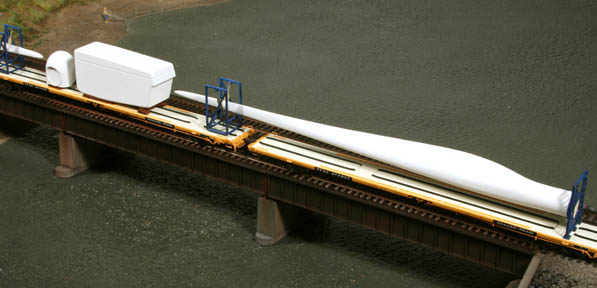 HO Scale Kit No. 216 Turbine Blade and Blocking
MSRP $22.95
HO Scale Kit No. 217 Nacelle and Cone with Blocking
MSRP $24.95
HO Scale Kit No. 218 Turbine Blade and Blocking 3-Pack
MSRP $58.95
HO Scale Kit No. 219 Wind Turbine Blade Blocking Only 3-Pack
MSRP $21.95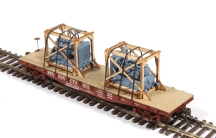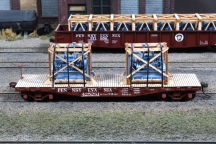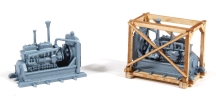 Kit No. 221 Crated Diesel Engine/Generator Loads
Our latest flat car load features a detailed multi-part cast resin diesel engine/generator, which includes separate frame, engine block, radiator, cooling fan, hoses and manifold, as well as an easy-to-build laser-cut wood crate for shipping the engine off to market. Laser-cut tie-down strapping is also included. Each package includes two complete loads, which, when used together, is suitable for flat cars with a minimum length of 40 scale feet (as shown). Each assembled load measures 1.75" long with end blocking x 1" wide x 1.125" tall. MSRP ...$19.95


Kit No. 287 Crate Flat Car Load - MSRP...$15.95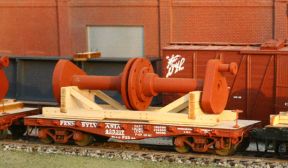 Kit No. 288 Crankshaft Flat Car Load - MSRP...$16.95
Kit No. 288 features laser-cut basswood and plastic parts, styrene tubing and illustrated instructions. Perfect for 40 foot or larger flatcars. Assembled load with blocking measures 3.75" long x 1" wide x 1.125" high.


Kit No. 289 Stacked Lumber Flat Car Load - MSRP...$15.95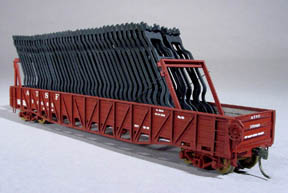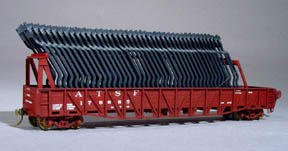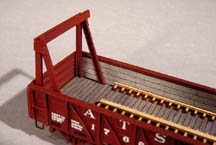 Kit No. 350 Auto Frame Rack for Tichy War Emergency Gondola MSRP ...$19.95

Back in production again! For use with the Tichy War Emergency Gondola and J.J.M. Railroad Enterprises Auto Frames or Laser Direct Auto Frames (not included). Includes laser scribed and cut wood car interior with cast resin rack assembly.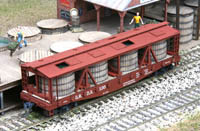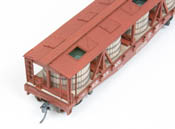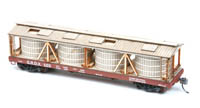 Kit No. 391 Pickle Car Conversion Kit MSRP ...$37.95
While the Pickle Car Conversion Kit has been designed to compliment our popular HO scale Pickle Works Kit No. 725, the completed car makes for an interesting member of any freight consist too from the steam era through the early 1960s. In fact, photographic evidence proves a few of the privately owned, similar appearing, steel constructed super structure wood vat cars were still being used into the 1970s.

Designed to fit a 40 foot flatcar, we've found the Athearn and Tichy models, in particular, work the best for the conversion. The Athearn car will require the removal of the existing brake stand, but the included laser-cut deck and brake gear will work equally well on both brands of flatcar. Although most of the open vat cars we researched displayed smooth side sills, we left the molded-in stake pockets in place on our sample Athearn based car pictured above while the Tichy flatcar kit offers the option to leave the stake pockets off. Custom decals, produced by Rail Graphics, are included as well and provide numbers for five different pickle cars under the ownership of G. R. Dill & Sons (G.R.D.X.).
Copyright © 1998-2022 American Model Builders. All rights reserved.
Revised: October 13, 2022.