Laser Direct NYC Barge Decal Set
Last Updated February 12, 2015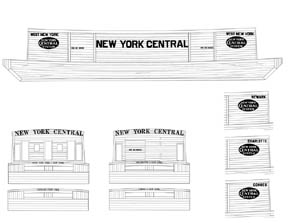 Kit #9400 NYC Barge Decal Set MSRP $11.95
This custom printed decal set is specifically designed for use with our Kit #8001 New York Central Harbor Barge. Produced by Rail Graphics exclusively for American Model Builders, each set completes one barge and includes NYC oval heralds with separate black backgrounds and a choice of four different barge names. A lettering diagram and decaling tips are included in the instructions.
Copyright © 1998-2015 American Model Builders. All rights reserved.
Revised: February 12, 2015.