PHOTO GALLERY

A place where you, the modeler, can display the models you've built using our kits!
Click on the thumbnail image to enlarge.
Last Updated January 6, 2023

Model by Göran Assner of Göteborg, Sweden
I´m a Swedish N scaler - building a large layout in Colorado in 1949 and have bought a few of your great Laserkits through Internet and attached (below) you will find three images of your #601 General Service Building in which I have connected 6 extra lights (2 inside and 4 outside):
Kit No. 601 General Service Building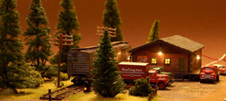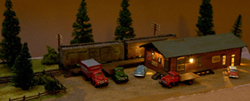 Keep up the good work.
Models by Mike Tylick of Sturbridge, MA
I recently built a few S scale models for a client, thought you might like to see them.
www.whatdetail.com www.trainweb.org/tylick:
Kit No. 90 Branchline Station




w/tabbed shingles w/rolled roofing
Models by Lee Christopher of El Segundo, CA
I thought you might enjoy the results from a slight alteration of your HO kit #861, Great Northern 25' "shorty" caboose. I wanted to build an HO scale model of this ex GN caboose currently in service on the McCloud Railway (in Northern California) as a VIP car. Your GN caboose kit was excellent for this project! I shortened the cupola height a bit and added detailing to match my prototype photos and here are the results:
Kit No. 861 - Great Northern 25' "shorty" caboose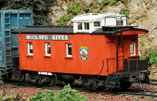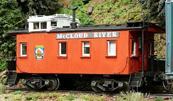 This is 1995 photo Lee's Model Lee's Model
Thanks for a high quality well designed kit!
Model by Bob Rule, Jr. of Hatboro, PA
Kit No. 488 - Martinsburg Coal Mine #2


Models by Alan P. Tuttle
Kit No. 2001 - DABLER MILL & SUPPLY COMPANY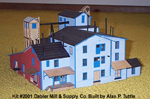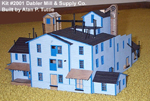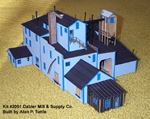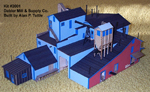 Kit No. 715 - A. C. BROWN MANUFACTURING COMPANY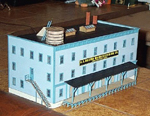 Models by Charles A. Duckworth
Kit No. 135 - ELLINGTON MERCANTILE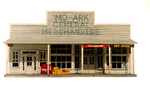 Kit No. 123 - CORYDON GENERAL STORE AND POST OFFICE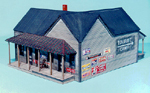 Lineside Structure No.709 - Boston & Maine Yard Office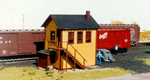 Models by Tom Washko
Kit No. 801 Santa Fe Number 3 Depot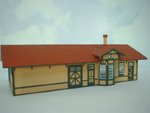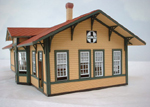 side view end view
Kit No. 802 Santa Fe Number 2 Depot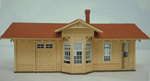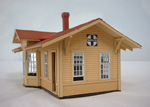 side view end view
Model by John Armstrong
This is John's first attempt at a craftsman style kit and he has done a great job. John has even tried his hand at a little scratch building by providing his barn with upper and lower interior floors as well as a removable roof:
Model by Dave Cwirko
Kit No. 147 - Hillview Volunteer Fire Department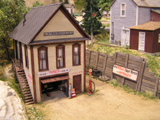 Model by Mike Caravello

Models by Dean Haywood
I customized each building, N-scale kit #'s 615 A. C. Brown Manufacturing Company and #653 Hinkle Mill, with an inkjet printed sign. A wooden ladder was added to the water tank on the A. C. Brown building. The Hinkle Mill was customized with corrugated roofing and even a couple of pigeons sitting on the roof ridge!
Kit No. 615 A. C. Brown Manufacturing Company and No. 653 Hinkle Mill

Model by Bill Alt of Janesville, WI
Kit No. 701 - General Service Building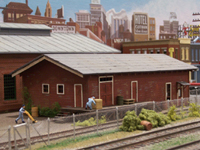 Models by Gary Mittner
Kit No. 185 PRR MO Tower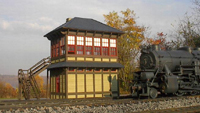 side view end view
Models by Loren Perry of Gold Medal Models
I have just built five (5) of your superb N-scale Oil Derrick kits (these are my very first AMB kit projects) and want to express my total satisfaction with the engineering and design of them. They all went together flawlessly. Your instructions left nothing to be desired. I am truly amazed at the precision of these kits. Your designers are first rate. Thank you for these excellent products. I'll soon be building a lot more of your kits that I've accumulated over the years and will no doubt enjoy them every bit as much as I did these.
N Scale Kit No. 616 - Glenwood No. 2 Oil Derrick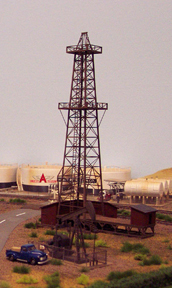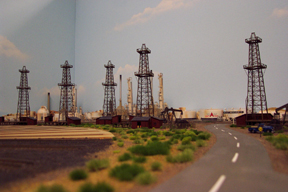 Model by Kathy Tucker of Granbury, Texas
N Scale Kit No. 643 - Windsor Hotel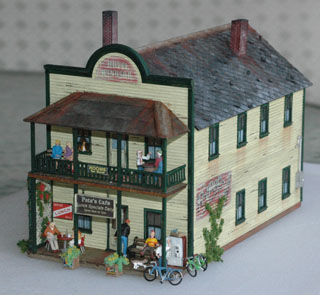 Models by Tom Johnson of Kewanna, Indiana
HO Scale Kits No. 117 Hitzeman Feedmill and 121 Silex Grain Elevator (kitbashed)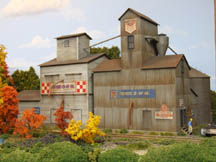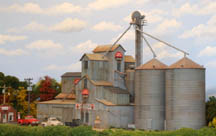 Model by Doug Frobes of Fayette, Illinois
"Just wanted to pass along a couple of pictures of my IC side door caboose. Hope you enjoy them. It was incredible to build. The parts fit together very well. I used the Adair shops weight set which fit perfectly, and the car rolls exceptionally well. I still need to add the marker lights and some curved grabs at the top of the ladder. I am looking forward to building another. Thanks for a great kit."
HO Scale Kits No. 852 - Illinois Central Side Door Wood Caboose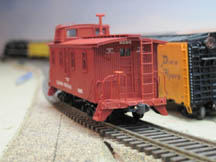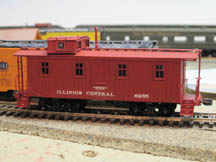 Models by Kim Saign of Round Rock, Texas
From left to right: Class A (unmodified kit), Class B, and Class C
N Scale Kit No. 649 Northern Pacific Combination Depot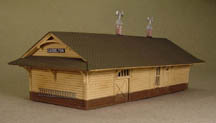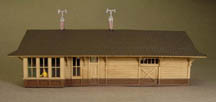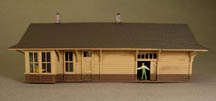 Models by Karl Scholz of Lansdale, Pennsylvania
HO Scale Kit No. 189 Garner's Market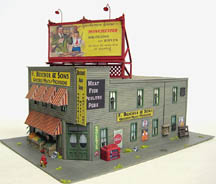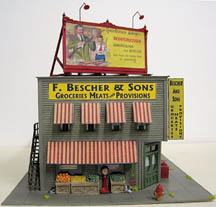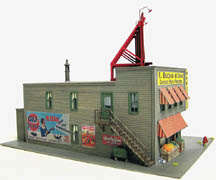 Models by Frank Eva of the Gold Rush Hobby Shop
Kit No. 155 - D&RGW Cumbres Depot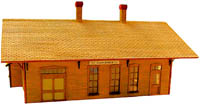 Kit No. 719 Bruckner Woodworking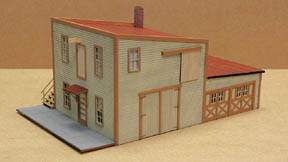 Kit No. 129 One Story Section House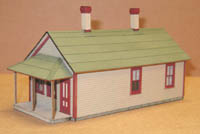 Models by Frank Binder of Franko's Rail Depot
O Scale Kit No. 473 Water Supply Tank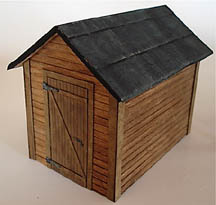 HO Scale Kit No. 134 Southern Pacific Type 22 Depot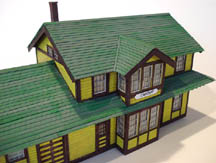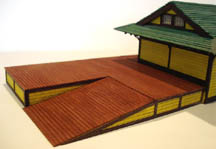 Model by Kathleen Fisher of Point Pleasant, PA
I want to let you know how very pleased I am with your Grain Elevator kit. It went together without a hitch. I think it looks pretty good considering I am a novice at kit-building. Thanks for a wonderful product!
O Scale Kit No. 472 Farmer's Grain & Stock Company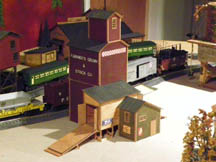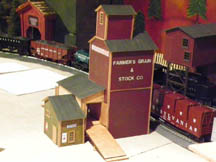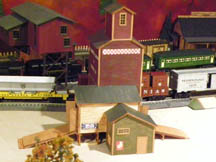 Model by Bill Justus of Dallas, TX
Thought you might be interested in this take on your new Santa Fe caboose [kit number 875]. In the March, 1957 issue of Model Railroader, Eric Stevens wrote an article about scratch building this car. My father-in-law, Terry Walsh [MMR 11] built a model as his first scratch building project. He passed away in 2002, and his wife died this past January. At that time, his sons and my wife cleaned out their parent's house and discovered several boxes of rolling stock and structures from his layout [which was dismantled in 1966]. I decided to use those structures and some of the rolling stock in a recreation of the main town on that layout. His eldest son took the original caboose, so I figured I'd have to scratch build another one. Your kit saved me a great deal of work and is, I think, spot on. I modified the kit-really not much was necessary other than the roof overhang and end platforms/railings.
HO Scale Kit No. 875 Santa Fe Sidedoor Waycar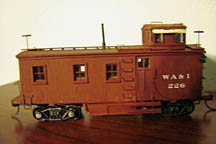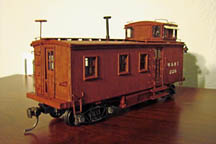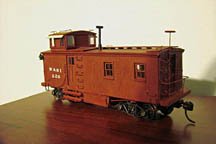 Model by Mark Doyon
A little back ground on the painting crew on the roof. I started out with a real soft green for the whole building thinking that would look good, but that just look nasty. So, I repainted the whole building white and I was not happy with that as well. Again, I repainted the main building a "Delta Creamcoat Bambi Brown", the color you see now, and was not real keen on that look as well, so I started to sand down the Bambi Brown and the white started to come through and it started to look like the paint had been stripped off, so I went with that and it came out great I think. The left side of the building I changed up, instead of your brick, I made it clapboard siding and added 16 lights all over the buildings plus any door that was open has an interior. Overall, it took me about a year on and off at a few weeks at a time.
HO Scale Kit No. 2001 Dabler Mill & Supply Co.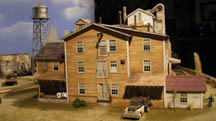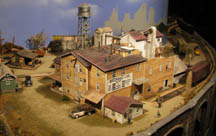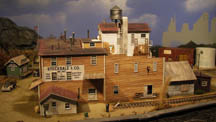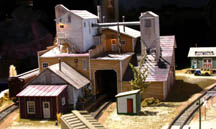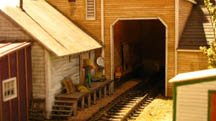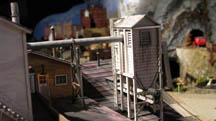 Model by Charles Smiley of Nothridge, CA
I recently discovered your tower kit (#702). It has perfect proportions that work anywhere in the US. It's a great foreground model. I added an extra window (easy to do). It has full lighting and and interior. The layout is at the Charles Smiley Presents video studio in California. It portrays the Oakland Bay area in 1955 on the SP -- and soon the Sacramento Northern.
HO Scale Kit No. 702 Interlocking Tower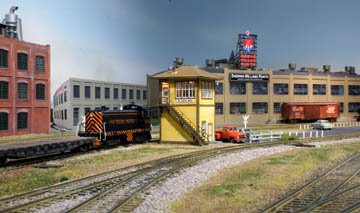 Models by John Evans of Bel Air, Maryland
Thank you for sending a lost part so quickly for model #140. I have attached a few photos of the completed structure. The porch was altered to match a friend's home, almost identical to the model. Also placed shutters. One suggestion, include one full length roof flashing cap, would look better than several sections. I also moved the chimneys closer to the side walls.
HO Scale Kit No. 140 Two Story Farm House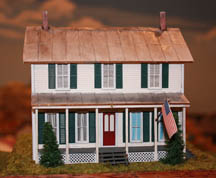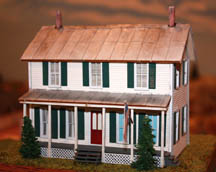 I recently added your Velvet Freeze building to my layout too and have received a lot of great compliments. Thanks for the kit, AMB produces a very nice product. Also showing the Garner's Market.
HO Scale Kit No. 724 Velvet Freeze Grill and No. 189 Garner's Market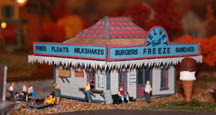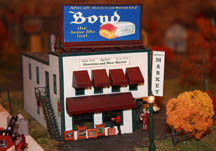 I have attached a photo of my completed AC Brown building. AMB kits are detailed and relatively easy to assemble. This structure receives a lot of attention from my guests. Thank you.
HO Scale Kit No. 715 A. C. Brown Manufacturing Co.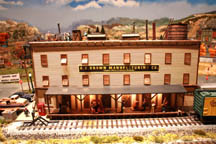 Model by Bob Harford
I have just finished your Kit #601, General Service Building. You might wonder why I am addressing this accomplishment. I wish to commend you on the laser accuracy and the "magical mastic" shelf life of this kit. I purchased 4 kits from a vender at the Greenberg's Train and Toy Show, Dulles Expo Center in Chantilly, Virginia in 1997. My far less than nimble fingers (nearly 70) were still able to accomplish the task. The building was finished with Bragdon Enterprises Weather System Model Aging "Old Yeller" and "Soot" sealed with Krylon Workable Art Fixitif (see photo attached). I am working on the other 3 kits and expect equal success. Thanx again for very nice kits.
N Scale Kit No. 601 General Service Building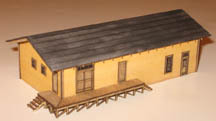 Model by Alden Armstrong of Grand Junction, Colorado
HO Scale Kit No. 725 G. R. Dill & Sons Salting Station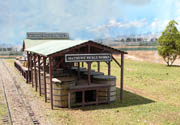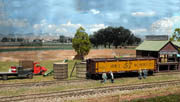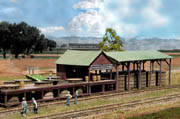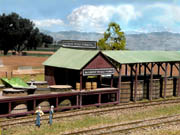 Model by Dan Hicks of Allentown, PA
Kit No. 874 - Lehigh Valley Wood Transfer Caboose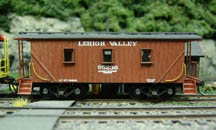 Model by John Miller of Railhead Custom Painting
I thought I'd share with you my HO, NP 1200 series caboose I finished using your kit. It turned out pretty good, but I think I'll keep adding more details to it. Anyway, thanks for offering this great kit in HO.
Kit No. 871 Northern Pacific 1200 Series Caboose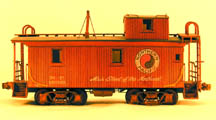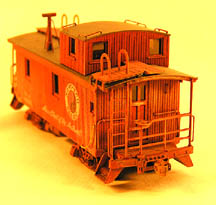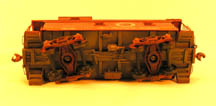 Models by Mike Berger of Vienna, Virginia
I am a member of the Board of Historic Vienna, Inc., and Chair of the Museum Committee. We operate the Freeman Store and Museum. This building dates from just before the Civil War. A picture of the building taken in 1864 and then known as the Lydecker Store, is the first photo. During the war the building was used as a hospital by Union forces. I thought you might be interested in a project I just completed by combining two of your Two Story Farmhouse Kit No. 140, purchased a few weeks ago. The "kitbash" represents the building as seen in the 1864 photo. I worked solely from that photo and some basic dimensions taken from the building itself. Using both kits the model was increased in length to a scale 52 feet, and in depth by 10 scale feet. Windows and doors on the front and left side were relocated as necessary. I've included three photographs of the finished model on a small diorama. This was the first of your kits I've worked with. I found it relatively easy to modify.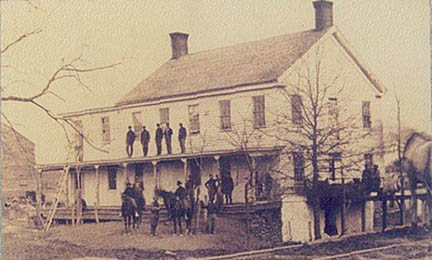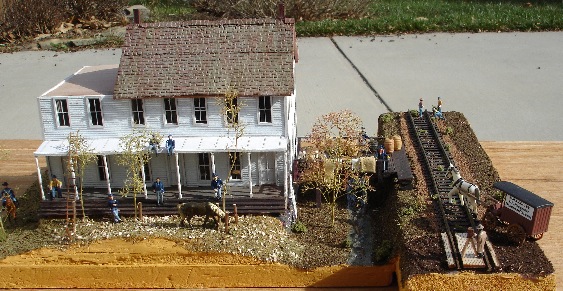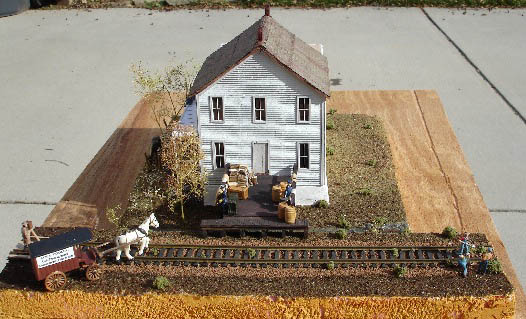 &nbsp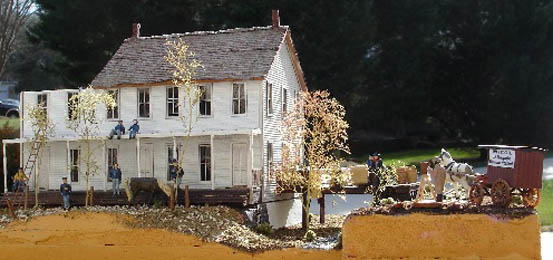 Models by Jim McMahon of Hendersonville, TN
Kit No. 872 Florida East Coast Caboose (custom cut without side doors per Tennesse Central prototype) and Kit No. 873 NC&StL/L&N Caboose
Model by Woody Langley
After building two of your Lehigh Valley transfer caboose kits in succession, I moved on to your LV cupola caboose (see first photo). The second picture shows that the roof on the cupola caboose as well the roofs on the transfer cabooses were made removable by gluing the formers to the underside of the roofs. With a little sanding adjustment, the roofs are a snug press fit into the recesses at the top of the body sides. The floors are also removable, held in place with screws in each corner. All three cabooses are fitted with Utah Pacific working marker lights using Train Control Systems' components. The caboose interiors house a function-only DCC decoder to remotely turn the pair of micro-miniature lamps on and off, a 1.5-volt converter for the lamps, and a Keep Alive circuit for flicker-free performance. When finishing the cabooses I was fortunate in finding in a Morning Sun book on the LV a color photograph of a prototype transfer caboose and cupola caboose parked together in a yard. The roofwalks are the body color. The smoke jack on the cupola caboose is the same height as the casting furnished with your kit and was bare metal (silvery color). The smoke jack on the transfer caboose is considerably shorter (I made my own from styrene rod and tubing) and painted the body color.

Thanks for these great kits as well as your pickle car conversion, which I've just added to a Tichy flatcar!
Kit No. 878 Lehigh Vally Cupola Caboose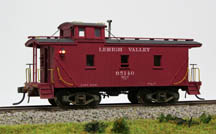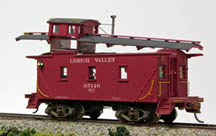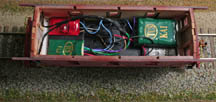 Model by Jim Gottlick
HO Scale Kit No. 723 All American Gas Station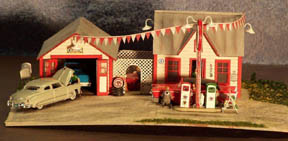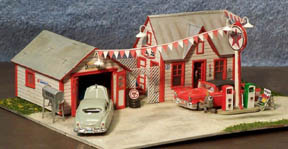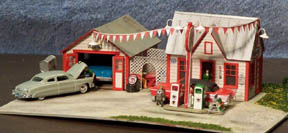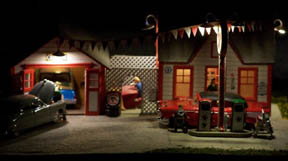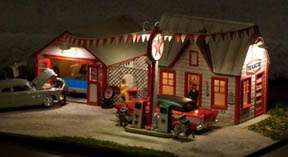 Models by Ken Schanz
I can't thank you enough for starting your line of N-scale cabooses. So far, 2 down and at least another 2-3 to go. Finally had a chance to get a few photo's to forward. Can't wait until the layout is done and they are rolling through northern Ohio behind an eastbound hotshot! Continued success on all your projects!
N Scale Kit No. 551 Nickel Plate Road Cupola Caboose




Model by Gary Miller
I thoroughly enjoyed building this kit. I have the original Railroad Model Craftsman article from 1982 and planned to build it someday. Your kit allowed that to happen sooner than later. Here are a few pictures of "Leslie's Mill & Supply Co.". Signs were made with MS Word. Scratch built a conveyor and some of the details shown on other photos in your gallery for the Dabler Mill. My wife Leslie was pleased to see the completed project.
N Scale Kit No. 653 Hinkle Mill & Supply Co.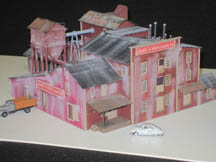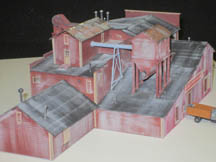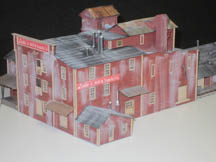 Model by Jeff Kuebler
Kit No. 702 built and painted as L&N tower.
HO Scale Kit No. 702 Interlocking Tower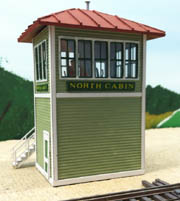 Models by Seth Lakin of Michigan City, IN

HO Scale Kit No. 879 NYC 19000 Series Wood Caboose and NYCSHS Exclusive NYC 19000 Series Plywood Side Caboose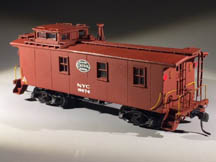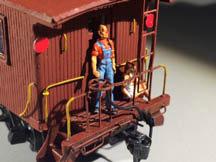 Models by William Casper
I wanted to thank you again for all of your support during the construction of the Nine Mile House & Tavern. As I predicted, I took 1st prize at the July meeting of the Boulder Model Railroad in the kit construction class. After bringing my model home, I scratch built a bar room scene inside and lighted it before installing it on my layout. The year of my layout is 1966, so I have named the building Porta's Tavern which was its name from 1932 until 1982. I thought you might like to see some pictures.
N Scale Kit No. 645 Nine Mile House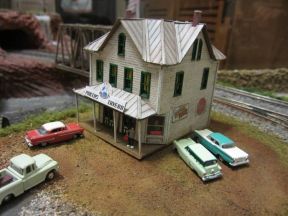 Model by Blair Davies of Queensbury, NY
Kit No. 2001 - DABLER MILL & SUPPLY COMPANY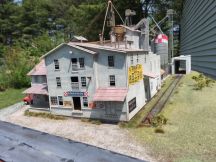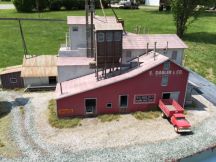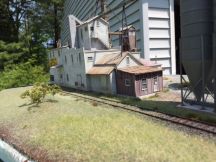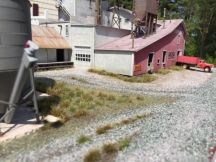 Model by Greg Harter's Granddaughters Elizabeth and Ainsley
Thought you'd be interested in this, from a very proud grandfather. Two of my granddaughters, aged EIGHT, are really interested in model railroading. They run trains on my layout. About a year ago, they decided to build a structure, and they selected your 'Pickle Works, HO #725. I offered guidance, but didn't touch or build any of the model. They have learned how to read instructions, glue, paint, weather, detail, add figures, etc. It took about a year (they live in Indy, I live 50 miles South in Columbus). When they finished it, I suggested they enter the structure (and the pickle cars which they also assembled and painted) in the NMRA Model Contest at the convention in Indianapolis(held last week). Long story short, they won FIRST PLACE in the People's Choice award, and the Bar Mills award for best structure. They were very proud and happy.
HO Scale Kit No. 725 G. R. Dill and Sons Salting Station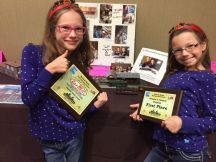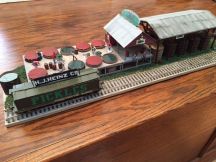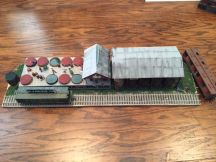 Model by Jeff from Southern Maryland
The American Model Builders Miner's Cabin is a very good quality laser kit with easy to follow written and visual instructions that are very descriptive. The parts fit easily together without any modification. I built the N scale version using Vallejo acrylic paint on the entire model. I first stained the wood in the kit using Hunterline Blue Gray Weathering Mix to make it appear weathered and old. I then dry brushed the cabin siding with Vallejo White, allowing some gray wood to show through so the paint would appear to be fading and chipped. I painted the doors, window frames, corner boards, and board overlaps with Vallejo German Bright Green. After assembly, I weathered the roofing strips with a wash of Vallejo Sky Grey paint and attached the smokejack to the roof, which was painted with Vallejo Dark Rust. I used the remaining wood from the kit's carrier sheet to scratch build both the coal storage bin (posed against the cabin front wall) and the outhouse. The truck is a 1934 Ford pickup from Fine N-Scale Products, which I detailed and painted. For added realism, I built a small diorama to showcase this fine kit from American Model Builders, Inc.
N Scale Kit No. 603 Miner's Cabin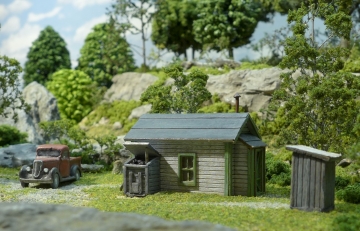 Model by Todd Sullivan of Jamesville, NY
I bought two of your No. 871 NP 1200 series caboose kits and built one up with some additional details. I am very pleased with it, especially the end ladders and railings (see photos). I made a few mistakes - the most noticeable is the positioning of the end railings on one end - but the errors will be fixed on my second No.871 model!
Kit No. 871 - Northern Pacific 1200 Series Wood Cupola Caboose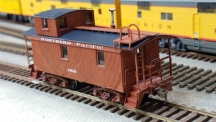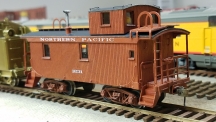 Model by Christopher Piscatella
Just wanted to show you a few photos. Thank you for making a great kit!!!!
Models by Stephen Schroeder of Batavia, IL
Feeder Barn N-Scale, a fine kit and wonderful value!
N Scale Kit No. 617 Feeder Barn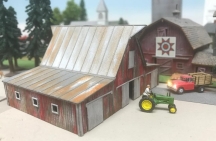 A perfect one evening build, The Crossroads Church #691: "Open 24/7 Day or Night"!

N Scale Kit No. 691 Crossroads Church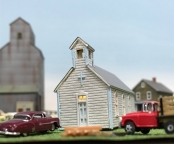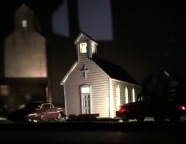 Models by Pat Cassidy of Summerville, SC
Wanted to drop a note to thank you for the quality of your products. First, the NYC "long caboose" was a pleasure to build. All the parts fit exactly, were cut perfectly and it wasn't much more difficult to build than some of the more expensive plastic kits. I especially liked the plexiglass bending jig included with the kit. It's not my first rodeo with your kits as I've built about 4 cabeese and quite a number of your buildings. But I just had to send along a note of appreciation. Here's a photo of my finished caboose:
HO Scale Kit No. 887 NYC Lot 732 "Long" Caboose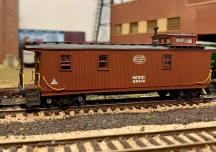 Next, I used your #230 diesel windows for Athearn GP40-2 etc. I was anxious whether I could install these in two locomotives I finished detailing. I was very pleasantly surprised that I could install them without disassembling the cabs on these models! The window inserts fit perfectly and we're crystal clear! I finished both locomotives this morning after my coffee and improved the appearance of the locomotives substantially! This afternoon I installed A-Line wipers and they were more challenging than your windows. ( Again, I have used your window treatments in numerous Branchline passenger car kits but this is a first for your diesel windows). Here is a photo of my completed models:

HO Scale Kit No. 230 Athearn GP/SD Window Set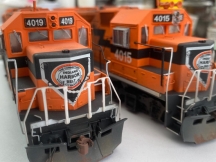 Copyright © 1998-2023 American Model Builders. All rights reserved.
Revised: January 6, 2023