LaserCut Structures In O Scale
Last Updated December 22, 2022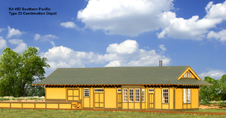 Kit 450 Southern Pacific Type 23 Combination Depot
Between 1877 and 1894, the Southern Pacific Railroad developed a series of 26 standard depot plans. Of these designs, the One Story Combination Depot Number 23 was used as the basis for over 30 station structures. Built between the years of 1896 and 1918, examples of the Type 23 could be found in both California and Oregon. Although not as numerous as its two story cousin, the Type 22 with its upstairs living area, the one story building featured a passenger waiting room, operator's office, agents quarters, separate express room, and freight room. 
Our O scale rendering of this classic 80 foot long x 25 foot wide Southern Pacific design follows the company's 1911 revised plans. As modeled, the O scale building has a 42 foot freight room with a 60 foot long x 33 foot wide freight dock on the freight end. Photos of depots built to this plan show a multitude of variations from building to building in the number and placement of windows and doors, as well as the style of doors. This later version of the Type 23, for example, is denoted by its two adjacent windows on the end wall of the waiting room. Earlier built Type 23 depots utilized three windows spaced across the end. While we have modeled the dock and house track location at the front of the building with a "right hand" bay window, many had the house track located on the back side of the building too. This latest O scale LASERKIT features 100% laser-cut parts with Tab & Slotted wall and roof construction, pre-milled siding, Peel & Stick windows, doors, and trims, Peel & Stick 3-Tab style shingle strips, white metal smoke jacks, interior floor and wall partitions, exposed rafter tails, properly shaped roof brackets, and a separate wood loading dock with both stairs and ramp access. The assembled structure itself measures 20 inches long x 6.25 inches wide x 6 inches tall. With the addition of the dock, the facility stretches almost 30 inches in length making it not only the longest 1/48 scale structure cataloged by American Model Builders to date, but a true visual centerpiece for any O gauge layout.
MSRP $299.95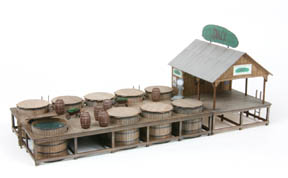 Kit No. 451 The Pickle Works
A great small industry to add to your layout, our new O scale kit conveys the early appearance of pickle salting stations with its 100% laser-cut real wood construction right down to the 10 brine vats, which display individual wood planks and banding. Made from quality birch plywood and basswood, the modeler will easily be able to obtain that stained weathered look of the prototype facilities. Furthermore, the modular design of the kit, which includes the open platform with vats and freight car loading point and elevated shed with covered deck affords the modeler relative ease in placement of the structures on their layout even on curved sidings.
Kit No. 451 features everything the discriminating craftsman has come to expect from a LASERKIT® including Peel & Stick windows, door, trim, and roofing material, custom scribed platform decking, Tab & Slot wall and platform substructure assembly, laser-cut ladders and wheelbarrows, cast resin casks and cucumber loads for the wheelbarrows, cast resin scale, optional open vats with simulated brine, well-illustrated instructions, and full color signage that includes a unique dill pickle shaped rooftop billboard. As shown, the G. R. Dill & Sons Salting Station measures 16.5" long x 6.5" wide by 7" high with the elevated shed 5" long and the open platform 11.5" long. Click on photo for more details!
MSRP $189.95
This 100% laser-cut O scale basswood kit is designed to either augment the parts provided in our Kit No. 488 Martinsburg Coal Mine, to fit your own mine structure, or as a stand-alone unit. The kit provides 20 linear inches of "tailings trestle", which can be assembled in a straight line or curves to suit your scenery.
MSRP $39.95

Kit 466 Hancock Pond Water Tank
Built for the famous Maine Two-Footer Bridgton & Saco River Railroad, our kit is accurately scaled from multiple prototype photographs. Kit features a complete interior water tank, visible through the door, window, and side-wall overflow opening. It's perfect for keeping your O scale narrow gauge engines from getting thirsty, no matter what part of the country you model! Compatible with On2, On30, On3 and other small O scale locomotives.
Kit #466 includes: custom scribed wood sheathing, our original Peel & Stick trim and details, our original Tab & Slot construction, a cast resin water spout, a construction jig for building the stairs, concise illustrated instructions, "nails" and seams pre-scribed into the roofing, and all the other features you have come to expect from LASERKIT. When assembled, the water tank measures 3.25" long x 3.25" wide x 4.5" high with the service platform and stairs adding 0.5" to the width and 1.25" to the length.
MSRP $64.95

Kit 468 Glenwood No. 2 Oil Derrick
Our new O scale Oil Derrick kit is based on an article written by George Allen in the September 1952 issue of Model Railroader. The construction style of this Derrick with its wood framing dates from the late 1880s and was in use in areas of the country where lumber was still plentiful as late as the 1950s. Derricks such as this one could be found almost anywhere that oil was commercially produced in the United States: from California's central valley, to Oklahoma and Texas, and even up into central Ohio and western Pennsylvania.
Standing over 27 inches tall, the Glenwood No. 2 Oil Derrick will look impressive on any O gauge layout. The kit features 100% laser-cut materials, Tab and Slot design for ease of assembly, and Peel & Stick doors, windows, trim, and decking. The kit includes platform with stairs, tower with Quadrupleboard, Crow's Nest, and ladders, hoist house and storage shed, and resin pipe and well cap. The Derrick itself may be finished as either a wood or a more modern steel tower. When assembled, the entire complex measures 9.75" long x 8.25" wide x 27.5" high.
MSRP $169.95

Kit 469 Single Car Garage
This free standing automobile garage is taken right out of the 1920 Bennett Homes catalog as presented by Ray H. Bennett Lumber Company of North Tonawanda, New York. Their Better-Built and Ready-Cut line of dwellings were very popular in the years leading up to and after the Great Depression. In particular, we based our structure on the Hudson model, which was designed to house a touring size car with ample working room around the sides.
Kit #469 features typical LASERKIT construction utilizing Tab & Slot and Peel & Stick technology. Just like the prototype, this O scale garage features two 3-light sash sidewall windows, wide opening doors with six-pane windows and hinge detail, milled siding, interior floor, and rolled roofing. It compliments our Kit #486 Two-Story House perfectly or it can be used as a small industry such as a repair shop for a service station or tool storage building on a railroad. The finished model measures 5.75" long x 4.5" wide x 3.5" high easily housing a 1950s era O scale sedan.
MSRP $29.95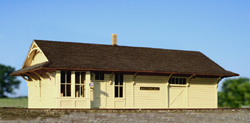 Kit 470 Northern Pacific Class C Depot
Over the years, the Northern Pacific used several different series of standard plans for various types of depots. Most of the plans were of combination depots containing passenger and freight facilities. Each series had several different sizes of depots and included both one-story and two-story structures. In the years 1889 through 1899, Chief Engineer J. W. Kendrick directed the preparation of a group of plans referred to as the S-26 drawing series. The series included plans for three different lengths of one-story depots with each length having two versions. One version had a low platform and the other had a high platform. The longest one story frame combination depot in the S-26 series was 75 feet 8 inches long by 24 feet deep. The low platform variant was called the Class A depot, as already represented in HO scale by our laser-cut kit #149. The smallest version with low platform, the Class C Combination Depot and the subject of this new O scale kit release, was 55 feet long by 24 feet deep. The Class C prototype basically saw the elimination of the waiting room found on the larger class as well as utilized a smaller operator's bay with several changes in door and window positions too.  Our O scale rendering of the NP Class C Combination Depot features 100% laser-cut parts including Tab & Slotted wall and roof components, Peel & Stick windows, doors, and trim, authentic roof and gable brackets, interior floor with wall partitions, white metal chimney, Peel & Stick 3-tab style shingles, and color signage. The assembled structure measures 16.5" Long x 8.75" Wide (including roof overhang) x 5" High.
MSRP $162.95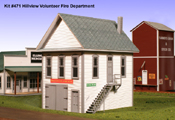 Kit 471 Hillview Volunteer Fire Department 
While not as common as they once were, buildings similar to our Hillview Volunteer Fire Department engine house could be found all over the country.

 

This small two-story frame building, based on a structure in central Illinois, is just large enough to hold the community's pumper truck downstairs and has room for an office and storage area for miscellaneous fire fighting equipment.

 

Since volunteer departments were usually composed of local citizens who held regular jobs, it was not necessary to provide sleeping quarters, although in a larger city setting the upstairs would have been used for this purpose.

 

Instead, in some small towns, you might find the city hall or a meeting hall in the upstairs area.

As always, our O scale kit is made up of precise laser-cut materials that assemble into a 7" long x 5" wide x 9" tall structure.  The kit features Tab & Slot constructed walls with pre-milled clapboard siding, Peel & Stick windows, doors, and trim, hexagonal type roofing shingles, and a white metal chimney.  Hillview's unique and large Queen Anne style windows offer a view inside the second story, which includes a floor for those modelers who enjoy detailing the interior of our building kits.  An external staircase with railing provides access to the offices above while our custom printed full color signage offers several decorating options.  Perfect for modeling a large city or a small town fire department, kit #471 is a great addition to any O scale pike.  
MSRP $95.95
  Kit 472 Farmer's Grain & Stock Company
Our first grain elevator for the O scale market is based on plans found in a 1913 copy of the "Grain Dealers Journal" and referred to as the Northwestern Line Elevator.  This small cribbed country elevator, with its ramps leading to the unloading shed, was common around the turn of the century in locations where relatively small amounts of grain or corn were grown.  A number of these grain elevators can still be found today, but usually in a greatly altered form.
The relatively compact size of our 1/48 scale rendition of this once common design is the perfect addition to any On3, On30, or O gauge layout with a rural theme dated from the turn of the century through the 1950s.  The kit features 100% laser-cut components with our famous Peel & Stick and Tab & Slot technology and includes:  drive through bay with ramps, office addition, laser-scribed decking, wood handrail, ladder, and simulated metal roofing.  For aiding the modeler in decorating this kit, we are also providing a laser-cut lettering stencil and custom printed full color farm industry related signage.  The assembled kit measures 17" long with ramps installed x 10" wide x 13" tall.
MSRP $149.95

Kit 473 Water Supply Tank
While there is no prototype for this particular kit, similar wood water tanks on towers could be found just about anywhere across the US throughout the "golden age of railroading". Whether in an industrial setting near a factory or mill, out on a farm, or trackside; water was always needed for a variety of purposes. At an industry, such a tank could provide an immediate supply of water for fire control, or it might be required for the production process employed in the factory itself. On a farm, it would usually supply irrigation pipes or drinking water at a cattle trough. Along the railroad, it might also be used for drinking water for a section crew outpost, or even for steam locomotive use with a suitable trackside delivery standpipe.
We've included a small pump house to provide for a way of getting water up to the tank for refilling it. Located inside this simple structure would have been a single cylinder gasoline or distillate engine connected to a piston pump such as those manufactured by Fairbanks-Morse. This O scale laser-cut wood kit employs our famous Tab & Slot and Peel & Stick technology and includes easy-to-build access ladders with jigs, cast resin column footers, styrene tube delivery pipe, and 3-ply birch plywood tank on simulated steel tower. Highlights of the pump house include milled siding, rolled roofing, and opening door with hinge and latch details. When assembled, the water tank measures 8" tall with a 4" x 3.25" base while the pump house stands 3" long x 2" wide x 2.75" high. Two or three small houses (such as our kit #493 Company House or #481 Section House) around this lone water tank would make a perfectly acceptable scene on any O gauge model railroad and fits in especially well on On30 layouts.
MSRP $62.95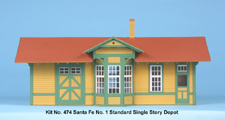 Kit #474 Santa Fe No. 1 Standard Single Story Depot
This Santa Fe structure features all of the precision engineering and ease of assembly you have come to expect for a LASERKIT. Based on the 1910 standards, the kit includes six over nine double hung windows, 1910 style end wall eave brackets, and rafter lookouts with 3" horizontal flats. Additionally, the O scale structure features our unique and accurate "stand alone" designed Santa Fe style bay window as well as Peel & Stick diamond shingles, an interior floor with simple wall partitions, and a white metal chimney. The finished model measures 11.5" Long x 6.125" Wide x 4" High with roof overhang. - MSRP...$109.95
   Kit No. 475 Dill's Market
100% Lasercut wood for a perfect fit. Pre-cut window & door openings, peel & stick, layered window and door assembly, and clear, concise instructions. 6" long x 4.5" wide x 4.5" high. A screen door and window set is available separately (O-Scale kit no. 458 - $6.95) - MSRP...$52.95

  Kit #476 D&RGW Cumbres Depot
This famous depot was located atop Cumbres Pass along the route of the Denver & Rio Grande Western's San Juan narrow gauge extension. The kit is carefully scaled after the original building, yet it's versatile enough for use on almost any O scale model railroad of any era. The kit features an interior floor with partition walls, accurate laser-cut roof brackets, white metal chimneys, and Peel & Stick shingles, doors and windows. Built-up, the O scale depot measures 10.5 "Long x 6" Wide x 5" High. - MSRP...$129.95

 Kit No. 477 Sonny's Shack
Laser-cut peel & stick "tarpaper" over laser-cut roof and walls - no painting needed. Peel & stick batten strips and "laser-cracked" glazing complete this great farm outbuilding, shed, or small business. 8" long x 4" wide x 3" high. - MSRP...$54.95

 Kit No. 478 Interlocking Tower
Designed after towers and yard lead-ins found across the country. Beautiful laser-cut stairway and unique hip roof construction. 4" long x 3" wide x 6.5" high. - MSRP...$62.95

 Kit No. 479 Long Bell Skid Shacks - 2 per box
100% Laser-cut with peel & stick window and door construction - great as part of a mining camp, farm worker's complex, or, without the skids, a row of tourist cabins. 4" long x 3" wide x 2.75" high - MSRP...$44.95/2

 Kit No. 480 Springfield Depot
Perfect for any road, any era. Features a wonderful bay window and Laser-cut "shake" style shingles. 10" long x 5" wide x 4" high - MSRP...$97.95

  Kit No. 481 One Story Section House
A single story section house based on a Rio Grande prototype. 100% Laser-cut with layered, peel & stick windows, doors & roofing material. 4.5" Long x 10.25" wide x 4.25" high. - MSRP...$63.95

  Kit No. 482 Miner's Cabin
Quick and Easy - works great as a switchman's shanty, miner's cabin, general purpose outbuilding, company house or small store. Assembled kit measures 3" Wide x 5.5" Deep x 3.5" High. - MSRP...$26.95

  Kit No. 483 Passenger Shelter 2/pack
Great for any corner of your O-Scale layout where passengers might wait for train, trolley or bus. Includes two shelters each measuring 3.5" Long x 3" Wide x 2.5" High when assembled. - MSRP...$25.95/2
The latest addition to our O scale Lineside Structures Series, the Elevated Warehouse, offers modelers a multipurpose facility that will fit in just about anywhere on their layout. Used by itself, the structure could be a small freight house for a railroad, a warehouse for a local merchant, or a distribution center for a trucking company. It could also be part of a larger industry sitting along side an elevator of a grain company or as an annex to a factory. Kit #484 features 100% laser-cut parts with Tab & Slot constructed walls and roof with Peel & Stick doors, windows, and trim. The elevated building rests on top six cast resin brick piers and is finished off with an interior floor, rolled roofing, and a white metal smokejack. Additionally, we have included a detailed loading dock, access ladder, truck bumper, and stairway that can be placed at different locations on the structure that best suits your layout. The assembled warehouse measures 9.75" long x 4.75" wide x 4.5" high with the dock adding another 2" in length or width depending on where it's located. MSRP....$79.95


  Kit No. 485 - Yard Office
Based on a Boston & Maine design, this building could also be used as an interlocking tower. 5.5"L x 4"W x 5.5"H. - MSRP...$61.95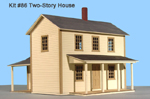 Kit No. 486 - Two Story House
Typical two-story design which can be used for anything from a farm residence to a railroad section house. The structure features a kitchen addition on the back, front and rear covered porches, tabbed and slotted wall and roof construction, our layered Peel & Stick window and door system, and white metal chimneys. Measures 8"L x 7"W x 6"H. - MSRP....$85.95

   Kit No. 487 - Ellington Mercantile
In small towns across the United States, false front structures like this one were once commonplace. The Prototype of this kit was found in Ellington, Missouri and featured a general store on one side of the building and a post office on the other side. Our latest O scale creation also includes this distinction with a recessed entry with large display windows for the general store and a smaller doorway for a secondary business. The appearance of this two story false front is further enhanced by a covered porch complete with laser-scribed plywood decking while the rear wall features a dock door. The kit includes laser-cut, Peel & Stick windows, doors, trim, and rolled roofing as well as an interior floor and white metal chimney. When assembled and detailed, this large business, which measures 12" Long x 11" Wide x 6" High, will easily become the focal point of any O scale layout's business district. - MSRP....$119.95

  Kit No. 488 - Martinsburg Coal Mine #2
The inspiration for this kit initially came from an abandoned slack pile sighted along the highway while on a trip railfanning the one-time Wabash mainline. Further research into the site turned up several interesting photos, which were used as the basis for this kit. Martinsburg is a small town east of Mexico, Missouri. This wooded constructed facility includes a hoist house with attached changing room, headframe with loading house and a tailings trestle. Coal chutes provided for both railcar loading and truck loading. Complete mine complex measures 20"L x 20"W x 8.5"H. - MSRP....$119.95
Although not considered a great architectural design, the American barn is one of the most beloved icons of our culture. While traditionally thought of as a red painted, rectangular shaped, wooden constructed building with few windows, a gabled roof, and huge doors, barns have been built in all different shapes, sizes, and mediums for a variety of uses. Generally, they exist to protect our harvest, livestock, seed, and feed, but also as storage for the implements and machinery that aid us in growing food. They are perhaps one of the most important structures in our society and thus fitting to be included in our miniature world as well. In particular, the loft style barn was rather common all across the US with an upper story suitable for storing hay while the lower level provided storage space for feed, seed, and planting and harvesting equipment. Furthermore, the overhanging loft provided the perfect protection for parking a small tractor or plow beneath. LASERKIT's first barn release for the O scale market is designed not only for the model railroader short on real estate, but also for those folks new to the craftsman kit market who will find this utilitarian structure very easy to build and a great introduction to the LASERKIT product line. This easy to assemble laser-cut wood model uses Tab & Slot and Peel &Stick construction, which will allow any modeler the ability to have a painted and assembled barn in as little as two evenings. The structure features a second story interior floor, panel roofing sheets, and sliding style doors that may be modeled in any position. Best of all, the 6" tall Loft Barn has only a 6" long x 4.25" wide footprint making it ideal for any size layout. Add our Kit #486 Two Story House and #477 Sonny's Shack for a complete traditional farm scene. MSRP....$44.95

   Kit No. 490 Branchline Station
A great small town or crossroads depot. Includes station platform. 6"L x 4.5"W x 3.5"H. MSRP...$34.95
   Kit No. 491 Crossroads Church
A traditional small church design that can be found throughout the United States. Totally precision laser-cut, the kit features Peel & Stick windows/doors and pre-colored, Peel & Stick tin style roofing paper. Measures 7"L x 4" W x 6"H.
MSRP $39.95

Kit 492 All-American Gas Station
It wasn't until Henry Ford introduced the first automobile that the middle class family could afford, the Model T, that the need for a refueling or filling station began to rise. The US's very first purpose-built gas station appeared in 1905 along Theresa Avenue in St. Louis, Missouri and from that time forward through the 1950s, the service station industry flourished as more and more Americans fell in love with the automobile. Today, the roadside gas station has become synonymous in the US's historical pop culture with the likes of the '57 Chevy and Route 66 achieving a level of immortality for post World War Two generations despite their rapid disappearance from our street corners in more recent years.
In an effort to honor these now iconic institutions, American Model Builders is proud to announce our latest addition to the O scale lineup: the All-American Gas Station. Based on a facility located in Harlingen, Texas in the late 1930s, our structure kit exemplifies a standard cottage style architectural design found throughout the US and Canada. Measuring 4.5" long x 3" wide x 4" tall, the 100% laser-cut building features our Tab & Slot and Peel & Stick construction with clapboard siding, simulated metal roofing, interior floor and wall partition, and door knob/lock plate details on the main and restroom access doors. Detail parts consist of cast resin pumps with separate pump handles and hose, oil can rack, coin operated soda chest, and laser-cut island with 4" tall stylized station sign. Full color signs for four different brands of gasoline companies as well as other assorted printed gas station paraphernalia are included too. Add our new Kit #469 Single Car Garage for a stand alone service bay.
MSRP $52.95

   Kit No 493 Company House
Typical company house design as seen lined up in row behind a mill or around a coal mine complex. 5.25"L x 4.5"W x 3.5"H. MSRP...$29.95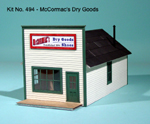 Kit No. 494 McCormac's Dry Goods
The Dry Goods shop is a false front building reminiscent of those built throughout the US in the late nineteenth and early twentieth centuries. It features a store front window, wood boardwalk, interior floor and wall partition, color sign, white metal smokejack, Peel & Stick windows\doors, and rolled roofing. The finished structure measures 9.5"L x 5.25"W x 5.5"H. - MSRP $49.95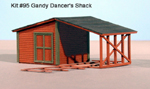 Kit No. 495 Gandy Dancer's Shack
Representative of small section houses found all over the United States. Features 100% laser-cut parts with Peel & Stick rolled roofing and trim. Includes a track set-off. Measures 7"L x 3"W x 3"H. - MSRP....$25.95
Copyright © 1998-2022 American Model Builders. All rights reserved.
Revised: December 22, 2022 .