LaserCut Structures In N Scale
Last Updated - April 4, 2023

Kit No. 601 General Service Building
Use it on your layout as a terminal storeroom, a freight depot and office warehouse, a small railroad station, a trucking company office/dock, etc. The super detailed loading dock is especially exciting. 4.5" Long x 2.25" Wide x 1.5" High. MSRP...$29.95

Kit No. 602 Interlocking Tower
This kit is designed after the interlocking towers and yard lead-ins typically found in small yards across the country. The laser-cut basswood and thin veneer plywood components are incredibly detailed. The stairway and the unique hip-rood construction are especially impressive. 1.25" Long x 1" Wide x 2.25" High MSRP...$27.95

Kit No. 603 Miner's Cabin
Quick and easy! Kit #603 works great as a switchman's shanty, miner's cabin, general purpose out building, company house, or any variety of small structures on your layout. 1.5" Long x .75" Wide x 1" High MSRP...$14.95

Kit No. 604 Transfer Building
Boilerworks, Warehouse…..Whatever Your N-Scale Layout Needs! Over 250…..that's right, 250 easy-to-assemble, notched, interlocking, Laser-Cut parts. When your Kit 604 is complete, it is sure to be the focal point of any N-Scale layout! 6.5" Long x 4.75" Wide x 3" High MSRP...$69.95

Kit No. 605 Sonny's Shack (2 per box)
Two complete Buildings in one box…..with Laser-Cut, Peel & Stick "Tarpaper" over Laser-Cut wood walls and roof, this kit needs no painting…..unless you insist. It features "Mix & Match walls and can be built as two separate buildings, or one larger building. Peel & Stick batten strips (with some extras if you want a patched look) complete this all-purpose, quick and easy, N-Scale Kit! 2.5" Long x 1.5" Wide x 1" High MSRP...$24.95/2


Kit No. 606 Farmer's Grain and Stock Company
Includes attached, elevated building dock with ramps, office and machinery shed, and scale. Dimensions (with ramps) 5" Long x 3" Wide x 4" High MSRP...$34.95

Kit No. 607 Santa Fe #3 Standard One Story Depot
Kit features a detailed bay window unit, diamond style shingles, white metal chimney, and our usual laser-cut high quality Peel & Stick windows and doors. For those modelers familiar with our HO scale ATSF depot kit of this design, our N scale version is to the same high level of detail. The finished structure measures 5"L x 1.75"W x 1.5"H. MSRP...$49.95

71K

112K Bay Window Close-up
Kit No. 608 One Bay Engine House
A One Bay Engine House …Warehouse…or Freighthouse …..Trackside, or in your Local Town. Based on an Illinois Terminal Design, this kit Features Board & Batten Siding, Rolled Roofing, Extra-Long AMB Cast White Metal Chimney….All 100% Laser-Cut! A simple and Fun Structure to build with a Dozen Different Uses! 4.5" Long x 2.5" Wide x 2" High MSRP...$29.95

Kit No. 609 Boston & Maine Yard Office
Based on a Boston & Maine design, this multi-use building could serve as an interlocking tower, mercantile, or even a small boarding house. Features include Laser-Cut scribed siding, windows & doors which assemble in layers with Peel & Stick backing, rolled roofing strips, and incredible, Laser-Cut rear stairs. 2" Long x 1" Wide x 2" High MSRP...$19.95

Kit No. 610 Country Grain Elevator
Our N-scale elevator is designed after the many elevators constructed in the early 1900's and still found standing throughout the midwest. All parts are laser-cut from basswood and thin veneer plywood. The roof is laser-cut from corrugated basswood. 3.75" long x 2.25" wide x 5" high. MSRP...$32.95

Kit No 611 N. Hitzeman's Feed Mill
Many communities were centered around the feed mill in the 19th & early 20th centuries. Even today, feed mills are still the focal point of many smaller towns. This Easy-to-Build Kit is the Perfect Companion Piece to N-Scale Kit #610…Country Grain Elevator! 4.25" Long x 2.5" Wide x 3.75" High MSRP...$32.95

Kit No. 613 Railroad Rooming House
Trackside or in your "layout town", this wonderful two story building has space for railroad employee rooming, offices, even a beanery. And it's narrow enough to fit between the tracks!!! 100% Laser-Cut, features include clapboard siding with pre-cut window & door openings, tabbed and slotted walls and roof parts, layered Peel & Stick windows and doors, a uniquely engineered balcony and outside staircase, plus two AMB cast metal "brick" chimneys and six smokejacks. This kit is quick and fun to build and a great addition to any layout. Assembled kit measures 6.25" Long x 1.25" Wide x 2" High. MSRP...$37.95

Kit No. 614 Midwest Farm Combo
This cost saving combo package includes four of our best selling N scale kits: the Country Barn, the Two-Story Farmhouse, and two (2) Sonny's Shacks. Displayed together, they form a typical midwestern family farm scene. All three kit designs feature 100% laser-cut parts and our proven Peel & Stick and Tab & Slot technology for ease of construction. Assembled, the Country Barn measures 4.25" long x 3.25" wide x 3.25" high and includes hexagonal shingles, the Two-Story Farmhouse, with its attached rear kitchen and delicately detailed front porch, measures 2.5" long x 2.5" wide x 2.25" high, and the Sonny's Shacks, outfitted with green colored tarpaper, each measure 2.5" long x 1.5" wide x 1" high. MSRP...$95.95

Kit No. 615 A. C. Brown Manufacturing Company
A wonderful factory for your N scale layout. 100% laser-cut wood with pre-cut window and door openings, layered, peel & stick window and door assembly, covered loading dock, outside staircase, and a roof with laser-cut water tank, skylights, access hatch with door, and cast white metal smokejacks and chimneys. 6.5" Wide x 3.5" Deep x 3.15" High. MSRP...$65.95

Kit No. 616 Glenwood No. 2 Oil Derrick
Our N scale Oil Derrick kit is based on an article written by George Allen in the September 1952 issue of Model Railroader. The construction style of this Derrick with its wood framing dates from the late 1880s and was in use in areas of the country where lumber was still plentiful as late as the 1950s. Derricks such as this one could be found almost anywhere that oil was commercially produced in the United States: from California's central valley, to Oklahoma and Texas, and even up into central Ohio and western Pennsylvania. The Glenwood No. 2 Oil Derrick features 100% laser-cut materials, Tab and Slot design for ease of assembly, and Peel & Stick doors, windows, and decking. The kit includes platform with stairs, tower with Quadrupleboard, Crow's Nest, and ladders, hoist house, repair house, and storage shed. This intermediate level structure kit, when assembled, measures 4.125" long x 1.5" wide x 8.5" high.
MSRP...$52.95

Kit No. 617 Feeder Barn
Round up the cattle, the sheep, or the hogs…..it's feeding time on the farm. Based on a style seen coast to coast, this tidy laser-Cut livestock or milking barn features scribed siding, Peel & Stick windows & doors, and a tin style roof with Peel & Stick backing. It's a quick and easy kit for beginner or expert. 4" Long x 2.5" Wide x 2" High MSRP...$19.95

Kit No.
#618 IC Type A Depot
The Illinois Central built a series of new, smaller depots during the post WWII era as a cost savings measure. Many of the company's older deports were in need of extensive repairs and the decline of passenger service on several lines made it more economical to tear down the original structure and then build a replacement out of new and salvaged lumber. The type "A", represented by our newest N scale kit, was one of the largest of the four standard designs measuring 36'-3" in length and 16'-3" wide at the end walls. It had a separate waiting room for passengers, an office for the agent, and an express-baggage-freight area. Kit #618 features custom laser-scribed and cut plywood walls and roof, white metal chimney, and a screen door on the passenger waiting room as well as Peel & Stick windows (with individual sashes), doors, trim, and 3-Tab shingles. The kit may be built with either the passenger waiting room on the left or right hand side. The assembled IC depot measures 3" long x 1.5" wide x 1.25" high.
MSRP $32.95

Kit No. 619 Country Barn
Horses and sheep or goats and chickens…whatever your stock, they'll be snug for the winter or out of the hot summer sun in AMB's barn…..designed after those seen everywhere….new and old….from coast to coast…..An incredibly engineered kit complete with Laser-Cut Hexagonal Barn Shingles. 4.25" Long x 3.25 " Wide x 3.35" High MSRP...$45.95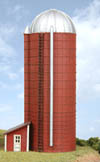 Kit No. 620 Farm Silo with Shed
Kit No. 620 is our interpretation of the classic Stave Silo, variations of which are still seen doted across the breadbasket of America. Our easy to construct silo is based on a typical 50 foot high x 20 foot diameter vertical structure. The Stave silo was constructed using wood or concrete planks that were then tightly banded together to form a ring. To increase the strength toward the bottom of a silo, bands were installed at greater frequency.

The typical use of this type of silo is not for the storage of harvested grain, but for the creation of feed called silage. Silage is made from grass crops, including corn or other cereals, using the entire green plant (not just the grain). The plant is then shredded and blown into the silo through the fill tube on the side. Once loaded, the top is covered in plastic and is allowed to ferment. The farmer would then unload the silage through the large unloading chute on the side and feed it to cud-chewing animals like cattle and sheep during the winter. The unloading chute typically discharged into a small house at the bottom, as on our kit, or directly into the barn.

The Farm Silo with Shed kit features 100% laser-cut wood components for a perfect fit plus Tabbed & Slotted construction with Peel & Stick windows, doors, trim, and roofing material for ease of assembly. Detail parts include cast resin dome and one-piece silo body with unloading chute as well as plastic filler tube and laser-cut wooden access ladder. The Silo may be finished as either a wood or concrete structure. When assembled, the Silo with Shed measure 2.5 inches long x 1.5 inches wide x 4.5 inches high and compliments our very popular No. 614 Midwest Farm Combo and No. 619 Country Barn kits. MSRP...$32.95

Kit No. 621 Silex Grain Elevator
At one time this elevator was served by the St. Louis and Hannibal Railroad. Of an older design, at some time in its' history it was covered with corrugated metal to protect it from fire. We have cut ours from Evergreen styrene. 5.75" long x 4.5" wide x 7.75" high MSRP...$32.95

Kit No. 622 Dill's Market
Once they were everywhere - serving the needs of small town or city neighborhoods.. Some still remain today, but most are just memories! Our store is based on one still standing today - it last served as a lawn mower repair shop. Features include 100% Laser-cut siding and roof pieces with pre-cut window and door openings, Peel & stick, layered window assembly, and Peel & Stick rolled roofing strips. The perfect little market for you N-Scale layout. 2.25" Long x 1.5" Wide x 1.5" High. MSRP...$15.95


Kit No. 623 Corydon General Store & Post Office
There might even be a gas station there, too. In small towns, on dusty highways, sandwiched between warehouses, this combination style general store, post office and gas station is still seen today throughout the U.S. and Canada. A great little "L" shaped combination building with features that include laser-Cut Siding, Peel & Stick, Layered door & window assembly, Laser-Cut hexagonal shingles for the covered fromt porch, and a nigty, covered rear porch on the "L". 3.75" Long x 2.75" Wide x 1.75" High MSRP...$29.95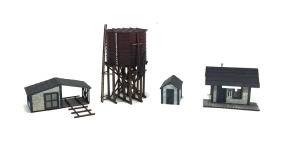 Kit No. 624 Branchline Siding Combo
Add all three of our N scale Branchline Series structures to your layout through this cost savings combo kit. The package includes: the Branchline Depot, a single Gandy Dancer's Shed, and Standard Water Tank (flat roof option only) with Pump House (for individual kit descriptions see Kit No. 626, 631 and 632 below). For reference, as pictured on our diorama, the overall Branchline Siding site measures approximately 10" long x 3" wide, although the modeler is certainly free to arrange the structures at their own discretion. MSRP ...$49.95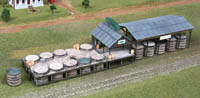 Kit No. 625 The Pickle Works: G. R. Dill & Sons Salting Station

The inspiration for our latest laser-cut creation comes from Paul Larson's "Pickle Works" article in the January 1955 issue of Model Railroader and David Leider's "Building a Pickle Salting Station" article in the March 2009 issue of Railroad Model Craftsman along with numerous prototype photos and personal recollections of individuals who labored at these salting stations.

A great small industry to add to your layout, our new kit conveys the early appearance of these salting stations with its 100% laser-cut real wood construction right down to the 20 brine vats, which display individual wood planks and banding. Made from quality birch plywood and basswood, the modeler will easily be able to obtain that stained weathered look of the prototype facilities. Furthermore, the modular design of the kit, which includes the open platform with vats and freight car loading point, elevated shed with covered deck, and the annex platform with roof, affords the modeler relative ease in placement of the structures on their layout even on curved sidings.

Click on photo above for additional information and photos! MSRP...$84.95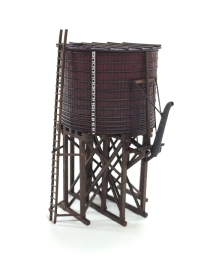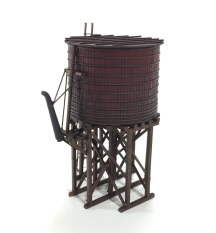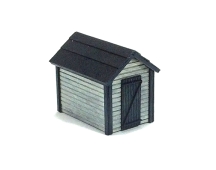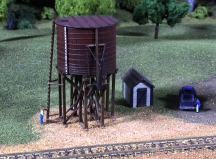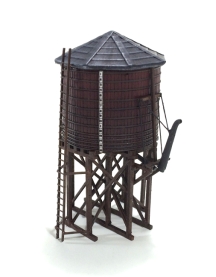 Kit No. 626 Standard Water Tank with Pump House
During the age of steam, one of the more common sights along the railroad was the water tank. Built in a multitude of sizes and styles, they were located at strategic points along the line, at stations, and at major terminals. While the details of tank construction varied from railroad to railroad, the basic shape changed little over the years. The most notable change being that from a tapered tank to one with straight sides as well as the eventual use of steel instead of wood in the construction of both the tank and supporting structure.
This N scale kit represents a 50,000 gallon straight side wooden tank, which is set on a wooden support structure and resting on wooden beams. The basic design of the tank was used from the mid 1800s through the early to mid 1900s. Although the various hardware components and support structure may have been modified over the years, a great many of these water tanks survived until the end of the steam era and often beyond.
The basic design of our water tank came from the Missouri Pacific Railroad plan book as well as from photographs of other railroads tanks where an overall similar appearance was maintained and a simple leg bracing system was utilized. The look of the included pump house, which housed the pump mechanism for moving the ground water up into the tank, was devised in the same manner. Likewise, the kit also includes two different styles of tank roof – both flat as well as peaked, to offer the N scale modeler greater versatility when trying to match a specific prototype for their layout.
Kit No. 626 boasts a real wood tank with custom scribed birch plywood wrapper and Peel & Stick tank bands; easy to assemble laser-cut wood beam support structure; built-up access ladder and water gauge; cast metal spout, fine brass wire, and plastic rod/tubing for modeling the water delivery system; optional cast resin peaked roof with simulated rolled roofing detail; and small wooden pump house featuring AMB's standard Tab & Slot and Peel & Stick construction. Finished water tank measures 2" square (with ladder located as shown and raised spout) x 2.5" high to top of tank (optional peaked roof adds an additional 0.25") while pump house measures 0.75" wide x 1" deep x 0.875" high. MSRP ...$29.95
Kit No. 627 U.P. Style One Story Depot
Clapboard Siding, U.P. Style Bay Window, Tabbed and Interlocking Wall and Roof Pieces, Peel & Stick Layered Windows and Doors, and laser-Cut Peel & Stick Rolled Roofing…..Quick, Fun, and Simple….The Perfect One Story Depot for your N-Scale Layout. 6" Long x 2.5" Wide x 2.75" High MSRP...$39.95

Kit No. 628 Two Story Section House
Based on a Missouri Pacific prototype, but appropriate for any railroad, or any town, this clapboard section house features front and rear covered porches, tabbed and slotted wall and roof construction, our layers, Peel & Stick window & door system, and Peel & Stick roofing strips. 2" Wide x 2.5" Deep x 1.5" High MSRP...$24.95

Kit No. 629 One Story Section House
This one is based on a small Rio Grande section house, with covered front porch, scribed siding, and peel & stick windows, doors and roofing. It would also be great as a small market, mountain cabin or gas station. 3" Long x 1.25" Wide x 1.5" High MSRP...$18.95

Kit No. 630 Country Barn with Silo
Our best selling N scale Country Barn kit now includes a familiar companion – the Farm Silo with Shed. Based upon a compilation of design features found on farms across North America, this new combo offering features 100% laser-cut components for a perfect fit plus Tabbed & Slotted construction with Peel & Stick windows, doors, trim, and roofing material for ease of assembly. In particular, our well detailed Country Barn features full roof rafters, optional rooftop cupola, hexagonal shingles, hoist rail, pre-cut clear glazing for each individual window sash, and both ground level and hay loft doors that can be modeled opened or closed. The Farm Silo includes cast resin dome and one-piece silo body with unloading chute as well as plastic filler tube and laser-cut wooden access ladder. The Silo may be finished as either a wood or concrete structure. When assembled, the Barn measures 5.375 inches long x 3.5 inches wide x 3.25 inches high including roof overhang while the completed Silo with Shed measure 2.5 inches long x 1.5 inches wide x 4.5 inches high. MSRP...$69.95
Typical of a small town passenger stop where insignificant freight movement did not warrant a combination railroad structure, the design of this structure provided both ticket and work office for the agent with very minimal waiting room space for the passenger inside. Instead, a small platform located on the trackside of the depot afforded space for the rider to await the arrival of the train.
Although simple in nature, the Branchline Depot offers the N scale modeler custom scribed wood siding, interior flooring, and exterior wood deck platform; train order and station sign boards; Victorian style end roof eave brackets; positionable window sashes; rolled roofing; and a white metal smoke jack. As with all of our laser-cut structure kits, Kit No. 631 utilizes Tab & Slot constructed walls and roof and Peel & Stick windows, doors, trim, and roofing for ease of assembly. The completed depot with waiting platform measures 1.75" long x 1.5" wide x 1.375" high. MSRP ...$16.95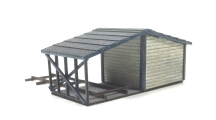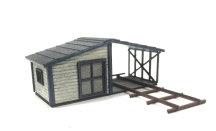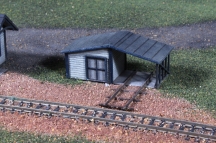 Kit No. 632 Gandy Dancer's Shed 2-Pack
The traditional "Gandy Dancer's" or hand car shed was a common sight along the rails of any railroad from the earliest days of railroading through the steam-to-diesel transition era. Although not based on a particular prototype, our N scale model emulates the practical nuances of these maintenance-of-way structures with an enclosed side of the building, which housed the various tools and supplies used by the track gangs, as well as an open side for parking the hand car. A track set-off is also included.
Featuring standard American Model Builder's kit construction, the wooden hand car shed exhibits custom scribed siding and carport decking; exterior stud frame wall; rolled roofing; Peel & Stick door, window and trim; and laser-cut ties, railhead, and wheel stop for detailing the open portion of the shed. When assembled, each shed (2 included in each package) measures 2.125" wide x 1" deep x 1" high. As shown, the included length of set-off rails places the shed 1.125" back from the main track, but can be shortened by the modeler to best suit their layout space. MSRP ...$24.95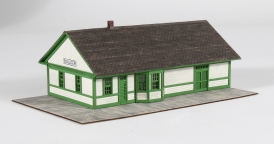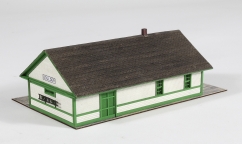 Kit No. 633 Great Northern Standard 30' x 60' Combination Depot
The Great Northern Railway utilized a wide variety of depot styles. The majority of the frame depots, however, followed one of two basic standard designs. The simpler of the two was used prior to 1909, but its exact design date is unknown. The plan on which this kit is based was designed in 1909 and renewed in 1930. This standard design was used until a depot modernization program was begun in 1949, which featured new designs.
The 1909 depot featured architectural treatments that were missing on the earlier design, such as angled bay sides, enclosed eaves with special corner treatment, and an external wainscoting, which separated the different types of wall siding. Depots of this design were constructed in several sizes too: 24' x 48'; 30' x 60' (as this kit is modeled); and 30' x 64' (with a warm room in the freight end). Larger depots were built when necessary, usually by enlarging the freight and baggage room. The design also featured reversible waiting and freight rooms, so that the waiting room could be placed on the end closest to public access.
While the earliest Great Northern frame depots were painted mineral red, after 1909, a two-tone yellow scheme was utilized which included medium yellow/ochre on the large wall sections with a darker ocher trim on windows, doors, belt rails, and corner posts. Beginning in September 1930, they were painted light gray with darker gray trim. The standard colors became white with green trim in the 1950s.
Our kit features: walls, soffit, roof, and platform that are 100 percent laser-cut from quality aircraft grade 3-ply birch plywood with custom laser-scribed siding, wainscoting, and platform deck; individual peel & stick 3-tabbed style shingle strips; the 1909 depot design's hallmark angled bay window; characteristic roof access ladder hanging on the freight side end wall; laser-cut peel & stick doors, windows with glazing, and trim – all that assemble with ease; resin cast chimney; and clear concise illustrated instructions. Assembled structure measures 4.625" Wide x 2.875" Deep x 1.75" High, including roof overhang, and, when mounted on trackside platform, measures 5.5" Wide x 3.625" Deep. MSRP ...$59.95
Kit No. 634 Sanders Grocery and Supply
Our latest N scale structure kit is loosely based on an existing building found in an old Narrow Gauge and Short Line Gazette. We suspect it originally served as some type of small retail business, possibly with an apartment upstairs, as the article's photos did show a stairway. It could easily serve as the local barber shop, bakery, hardware store, café or even a small home on your layout as well.
The kit is precision cut from quality milled basswoods and 3-ply aircraft grade birch plywood and incorporates all the attributes customers are used to enjoying in an American Model Builders LASERkit: tab and slotted wall and roof assembly; peel and stick windows, doors, and trim; rolled roofing; crystal clear window glazing; foundation with first and second story floors; full color signage for a variety of businesses; resin cast soda machine and cask for detailing the wood decked porch, and white metal chimney. The finish structure measures 2.625 inches deep x 1.375 inches wide x 1.75 inches tall over the false front. MSRP ...$24.95

Kit No. 635 Ellington Mercantile
Perfect for any town…..any time. 100% Laser-Cut scribed siding with two story front and covered front porch with Peel & Stick front decking. A special feature is our newly designed, recessed entryway with large display windows which were typical on this type of store. Also included are sign board and your choice of signs. Display your wares and maybe add a couple of gas pumps out fromt and you have the focal point of any small town of yesterday or today. 3.5" Long x 3.25" Wide x 2" High MSRP...$29.95

Kit No. 636 Springfield Cafe
This nifty little cafe with a "live-over" and covered rear lean-to is the perfect companion for Springfield Depot, Ellington Mercantile, or any of our other "town" structures. Features include clapboard siding with tab and slot construction, a covered front porch, and Peel & Stick , layered window assembly. Could also serve as a barber/beauty shop, pub, or tavern. 1.25" Wide x 2.5" Deep x 1.75" High. MSRP...$19.95

Kit No. 638 Springfield Depot
The depot that's perfect for any era…..any railroad…..any part of the country. Features include our unique "stand alone" three window bay, Laser-Cut shake style shingles with peel & stick backing, and our layered windows with glazing. This classic style one story depot is designed for quick, easy, and fun construction and a great look on anyone's layout. 3" Long x 1.25" Wide x 1.25" High MSRP...$36.95
Kit No. 640 Two Story Farm House
On the farm or in the town, this is the house you've been asking for. 100% Laser-Cut wood scribed siding with tab and slot construction and, our original peel & Stick layered window system. This typical two story house has an attached rear "kitchen", an incredibly designed and delicate front porch with Laser-Cut trim ans teps, and "tin" style roofing with Peel & Stick batten strips. Two AMB cast white metal chimneys tops it off. A beautiful kit with the standard, excellent LASERKIT construction. 2.5" Long x 1.75" Wide x 2.25" High. Rear Lean-to adds .75" Depth MSRP...$34.95

Kit No. 643 Windsor Hotel
Designed from a photograph of an old hotel in Nebraska, this style of structure was extremely common in the early to mid 1900's across the country and up into Canada. Features include 100% Laser-cut parts, with tabbed and notched side and roof pieces for ease of construction. Windows and Doors feature our unique, layered Peel & Stick design, and the covered front balcony has beautiful and delicate laser-cut trim. Another great town building for your layout. 2" wide x 4" deep x 2.5" high. MSRP...$39.95

Kit No. 645 Nine Mile House and Tavern
Designed from an old St. Louis tavern located exactly nine miles from the St. Louis City/County line, this building is still standing, although there have been some changes over the years. It is now called The Train Wreck Saloon, features a rear beer garden, complete with an old wood caboose, and is a popular "hot spot". Our kit is 100% laser-cut wood with layered, peel & stick window and door assembly, "tin" style roof, corner doors and windows, and two AMB cast white metal chimneys. Included with the kit is full color signage and front sign board. 2.25" Wide x 2.75" Deep x 2.5" High. MSRP...$39.95

Kit No. 647 Hillview Volunteer Fire Company
Designed from a photo of an old fire house in Hillview, Illinois, but appropriate for anywhere in the country. Our two story fire house is just large enough to house the town pumper truck on the lower level , with an office and storage above. This kit features unusual Queen Anne style windows which assembly in layers with peel & stick backing, double doors which can be modeled opened or closed, an outside stairway, and hexagonal, peel & stick shingle strips. 1.5" wide x 2" deep x 2.5" high. MSRP...$29.95

Kit No. 649 Northern Pacific Depot
Designed from plans for a Class A Depot built between 1889 and 1900, this kit can also be built to represent Class B or C depots with a bit of modification. 100% Laser-cut wood with clapboard and scribed siding and pre-cut door and window openings. Windows feature layered construction with peel & stick backing and a precise fit. Roofing is peel & stick tabbed shingle strips and two AMB cast white metal chimneys are included. 5.75" wide x 2" deep (including bay) x 1.75" high. MSRP...$64.95

Kit No. 650 Southern Pacific Combination Type 23 Depot with Dock
A beautiful kit for any Southern Pacific modeler, available now in both HO and N-Scales. Plans for an O-scale release are also underway. Features include incredible engineering for simplicity and ease of building. 100% laser-cut wood with layered, peel and stick windows, door, and shingles, tabbed and notched wall and roof pieces, laser-cut wood loading dock with laser-scribed decking, and correct, Southern Pacific style, cast white metal chimneys. 6.25" Long w/o dock x 2" Wide w/o dock x 1.75" High.....8.75" Long w/dock x 2.5" Wide w/dock x 1.75" High. MSRP...$74.95

Kit No. 651 Alton Elevator
The Alton Elevator kit features 100% laser-cut components with our standard tab & slot wall and roof construction and Peel & Stick trim, windows and doors. Peel & Stick roofing material is also included with simulated metal roofing on the elevator roof and diamond shaped asbestos type shingles on the office addition's roof. When fully assembled, the Elevator with addition (as pictured) measures 3.5 inches long x 3 inches wide x 6 inches high. MSRP...$39.95



Kit No. 653 Hinkle Mill
The inspiration for this kit came from plans in the January 1982 issue of Railroad Model Craftsman, the "Hinkle Milling Co.", in Thomasville, NC. The original structure was built in 1883, and since it was continually added to over the years, it was eventually a sprawling industrial site of considerable appeal. Unfortunately for history buffs, we learned shortly after the 2001 release of our HO scale version (Dabler Mill & Supply Company) that the entire site had been razed, bulldozed away into nothingness. Features Tab & Slot wall construction, positionable Peel & Stick assembly windows with laser-cut glazing, Peel & Stick doors and trim, Peel & Stick tar paper, rolled roofing and simulated asphalt brick paper, wood deck loading dock, white metal smokejacks, and full color signage. As pictured (small office building may be modeled attached to or separate from main structure), assembled kit measures 7" Wide x 10" Deep x 2.5" High. MSRP...$84.95

Kit No.
#676 SP Two Story Combination Depot Type 22
Over 70 Two Story Combination Type 22 depots were built by the Southern Pacific Railroad between 1899 and 1910. They were more commonly found in California, but examples were also located in Texas, Arizona, Utah, Oregon, and Nevada. A prominent feature of the Type 22 depot is the two-story high rectangular shaped bay window. The structure, which exhibited horizontal wood siding, typically measured 25 feet wide. The second story, with the same width of 25 feet, was usually 32 feet in length or longer. The freight room was built long enough to accommodate the SP's anticipated business at that location and ranged in size from 30 to 84 feet in length. Other variations between Type 22 depots also existed such as loading dock size, window and door arrangements, and roof design as well as mirrored floor plans. In fact, our latest N scale SP depot offering is considered a "left hand" version of this famous depot design due to the location of its bay window. Examples of "left handed" Type 22s could be found in California at La Verne, Palmdale, Grass Lake, and Chatsworth while numerous "right hand" versions existed as well. Our structure kit displays a 25 foot wide by 38 foot 6 inch long two-story portion with a 42 foot long freight room. As usual, the kit is 100% laser-cut and utilizes Peel & Stick and Tab & Slot construction. Features include: 3-Tab shingles, loading dock with wood deck, positionable window sashes, authentic gable trim, and accurately shaped brackets. Optional detail parts include bay ticket window and three different chimney styles so the modeler can best match the model to the prototype they are representing on their layout. The assembled structure measures 6.75" long x 2.75" wide x 2.5" high. The loading dock adds 2.75" to length and 0.75 " to width.
MSRP $99.95

Kit No. 691 Crossroads Church
A traditional small church design that can be found throughout the United States. Totally precision laser-cut, the kit features Peel & Stick windows/doors and pre-colored, Peel & Stick tin style roofing paper. Measures 2 1/2" long x 1 1/8" wide x 2" high. MSRP...$15.95

Kit No. 693 McCormac's Dry Goods
This Dry Goods shop is a false front building reminiscent of those built throughout the US in the late nineteenth and early twentieth centuries. It features a store front window, wood boardwalk, color sign, white metal chimney, Peel & Stick windows/doors, and rolled roofing. The finished structure measures 3"L x 1 3/8"W x1 3/4"H. MSRP...$15.95

Kit No. 698 Company Houses
Three typical company house kits included in each box. Dimensions are 1.5" long x 1.5" wide x 1" high. MSRP...$25.95/3
Copyright © 1998-2023 American Model Builders. All rights reserved.
Revised: April 4, 2023.